'Pokémon Go' Events 2017: Continental European Safari Zones have details trickling in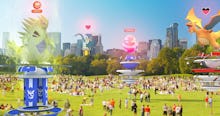 We're almost halfway through Pokémon Go's one-year anniversary event. When the event started, Niantic announced that they'd partner with several Unibail-Rodamco shopping centers in Europe for another live event later in the summer. On July 13, Niantic announced that seven Safari Zones will appear in shopping centers over three weekends later in the summer, providing opportunities to fight special raid bosses and capture never-before-seen-in-Europe Pokémon.
Fans have investigated the Unibail-Rodamco locations the events take place at, and found out some precious new information about to expect.
Pokémon Go events 2017: Safari event in Amstelveen will be free, but that's not consistent for all locations
A Silph Road user named Jow_nathan contacted the Unibail-Rodamco location in Amstelveen, the Netherlands, to ask if tickets would be sold for the Safari Zone event. Their response, which has been translated by user Dr_Ambiorix, was as follows:
Dear Jonathan,
It is indeed correct that there will be a Pokémon GO event at our mall. In the near future we will post all information regarding this on our Facebook page. The event is open for everyone, so there will be no need for tickets, only registration on location. We'll keep you posted!
Kind regards,
Stadshart Amstelveen
Fans were at the promise of a free event, especially given the issues with ticket sales for the Pokémon Go Fest in Chicago. Players hoped that the need to register at the event would dissuade spoofers, as well.
Right now, it looks like it's up to individual malls to determine their event parameters. A Silph Road user named ronarden emailed the Oberhausen, Germany location and they responded that their event would indeed require tickets. Another user in that thread responded that the Copenhagen event would be free.
These are pretty critical details to know, especially for international players planning to book a trip to Europe in order to participate. More information is forthcoming, so if you plan to participate in these events, make sure you keep your eyes peeled.
More Pokémon Go news, updates, tips and tricks
Raids are here! See why they may be the key to legendary Pokémon. Find out how to determine how long it will take you to reach level 40, and see what we think of the Gen 2 Pokémon added to the game. Here are the kinds of Pokémon you get from 10-kilometer eggs, and here's where you can check out what you missed during the Water Festival and Solstice events. Find out more about the upcoming Chicago event and why you'll probably be able to catch Unown while you're there — if you're not busy searching for rare evolutionary items, that is.