Who is Rinat Akhmetshin? Meet the Soviet spy-turned-lobbyist who met with Donald Trump Jr. in 2016.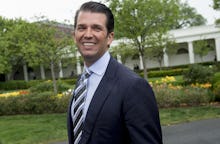 Rinat Akhmetshin — a former Soviet spy some suspect remains linked to Russian intelligence — attended the now-infamous meeting between Donald Trump Jr. and the Kremlin-connected lawyer who supposedly had damaging information about Hillary Clinton, it was confirmed Friday.
The Russian-American — who has denied being associated with Russian intelligence — has been noted as a lobbyist for the Human Rights Accountability Global Initiative Foundation, which is represented by the Russian lawyer Natalia Veselnitskaya. The HRAGI has lobbied Congress to kill the Magnitsky Act, which prevents Russian officials believed to have committed human rights abuses from obtaining visas and freezes their financial assets.
In April, Republican Sen. Chuck Grassley wrote a letter to Homeland Security Secretary John Kelly seeking information about Akhmetshin, whom he described as having been accused of acting as "an unregistered agent for Russian interests and apparently has ties to Russian intelligence."
A July 2016 profile of Akhmetshin by RadioFreeEurope/Radio Liberty revealed him as a mysterious, behind-the-scenes operator who acted as a "gun for hire" promoting Russian interests. Here's what you need to know about Akhmetshin:
He's a "skilled" lobbyist
Steve LeVine, a veteran Washington, D.C. reporter who has written about Akhmetshin's work, told RadioFreeEurope that the former Soviet spy is an unusually "skilled" lobbyist.
"I call him skilled because — though I am certain that they exist — I know of no Russian gun-for-hire who managed to run his campaigns so successfully, running circles around purportedly much more seasoned Washington hands," LeVine said.
He's worked to promote Russian interests
According to the RadioFreeEurope profile, Akhmetshin's lobbying record includes working to "bolster opponents of Kazakhstan's ruling regime, discredit a fugitive former member of Russia's parliament and undermine a Russian-owned mining firm involved in a billion-dollar lawsuit."
In a 2016 complaint to the Department of Justice, Hermitage Capital Management — an investment fund whose founder, Bill Browder, was a client of lawyer Sergey Magnitsky, whose detention and subsequent death in a Russian prison inspired the U.S. law bearing his name — alleged that HRAGI is "controlled/directed/influenced by the Russian Government."
Hermitage Capital alleged in the complaint that Akhmetshin and other lobbyists had failed to properly register as such and that they were waging a campaign to repeal the Magnitsky Act.
"We believe that these lobbyists are attempting to influence U.S. public opinion on policy issues, specifically the repeal of the Magnitsky Act and the removal of "Magnitsky" from the Global Magnitsky Bill, and are working under the direction of the Russian government," the complaint read.
He's been accused of orchestrating a hacking conspiracy
Akhmetshin was accused in a 2015 lawsuit of organizing a hacking scheme against International Mineral Resources, a Russian potash-mining company, according to RadioFreeEurope.
As the Daily Beast explained, "a New York law firm paid Akhmetshin $140,000, including expenses, to organize a public relations campaign targeting IMR." Soon after, IMR says they were hacked and that stolen data was disseminated to journalists and human rights groups opposed to IMR.
The suit described Akhmetshin as having "developed a special expertise in running negative public-relations campaigns." The former Soviet spy denied the hacking allegations, which were eventually dropped.