Ilhan Omar's 'Daily Show' appearance is a sign of hope for America's refugee and Muslim communities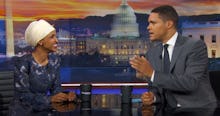 Minnesota Rep. Ilhan Omar wants to invite President Donald Trump over for tea.
Omar, Minnesota's first Somali-American lawmaker, appeared on the Daily Show with Trevor Noah on Thursday to talk about her journey as a Somali Muslim refugee who made her way to the halls of power.
She was elected into the state legislature on Nov. 8 on the same day Trump, known for his hardline views on Muslims and refugees, was declared president. Now, Omar wants to make the most of her first term as a state legislator and hopes all Americans — including Trump — visit the predominantly Somali Muslim community in Minneapolis. In fact, Omar said she invited Trump twice already.
"I invited President Trump twice now to come meet my family and my community because he seems to have a lot of opinions about the kind of people we are," Omar said. "We shouldn't judge a book by its cover. We should at least take time to get to know them."
Since the beginning of his administration, Trump has implemented several executive orders to block refugees and immigrants from seven Muslim-majority countries: Iran, Iraq, Libya, Somalia, Sudan, Syria and Yemen. In June, after several court battles blocking the order, the Supreme Court reinstated portions of the travel ban that allowed limited restrictions on immigrants and visitors from Muslim-majority countries entering the U.S. The partial lift of the ban barred entry for grandparents, parental in-laws, cousins, aunts and uncles. And now, a little over six months into Trump's presidency, the Pew Research Center recorded over a 40% drop in refugees entering the country.
Several years ago, Omar fled a war-torn country and then became a U.S. citizen. She was 8 when the Somali civil war broke out. Once, a militia tried to break into her family's home and bullet holes pierced through the exterior of the house. She had to pass through dead bodies and the debris of war to leave her birth country.
In her Daily Show appearance, Omar said she feels fortunate for the opportunities she's had in the United States. But she is also mindful of her friends that couldn't make it out alive in Somalia.
Omar said her "survivor's guilt" motivated her to run for public office so she could fight for a better future for refugees, immigrants and marginalized communities in this country.
"I came back sort of having a survivor's guilt and realizing that I had to do more, I had to give a voice to those that we left behind," Omar said. "I had to fight for a better life here, in the U.S., for those who made it here."
Noah noted that Omar is representative of nearly everything Trump has fought against.
"You are someone who is all too familiar with being a refugee," Noah said. "You're from Somalia, you're also a Muslim person, you're also a woman. You are everything that President Trump seems to be against, and you're in government. What's the plan?"
Omar didn't dish out her plan, but seemed confident in her answer.
"I am America's hope and the president's nightmare," Omar said.
You can watch the interview here.