Shaquille O'Neal is very loyal to one particular ice cream chain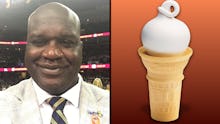 People are loyal to their favorites when it comes to after-dinner treats, and Shaquille O'Neal is no exception.
When it comes to dessert, O'Neal is unwavering about his favorite kind of ice cream — and we admire him for his decisiveness. We caught up with the NBA Hall of Famer on Thursday at an event commemorating the 80th anniversary of Krispy Kreme's original glazed donut. On Friday, the donut shop is offering a special deal — buy a dozen original glazed donuts and get a second dozen for just 80 cents. O'Neal celebrated by singing happy birthday to an enormous box of 80 donuts, and it was a real treat.
When it comes to creating the perfect ice cream cone, however, there are a few things the 7-foot-1-inch man expects. Watch the video below to see if your ice cream particulars match up with the Big Shaqtus':
This week, Out of Office is celebrating all things ice cream. Follow along as we explore the sweet history and unexpected influences of America's favorite dessert.