Betty Shelby, officer acquitted of manslaughter in shooting of Terence Crutcher, resigns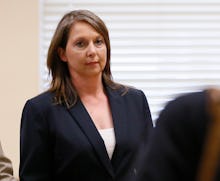 Betty Shelby — the Tulsa, Oklahoma, police officer who fatally shot an unarmed black man in 2016 — has resigned from the force, the Associated Press reported Friday. She had been serving in an administrative role in the police department since returning to work shortly after being acquitted.
"She's just not meant to do a desk job," her attorney, Shannon McMurray, told the AP.
In May, a jury found Shelby not guilty of first-degree manslaughter in the September shooting of Terence Crutcher. Prosecutors had claimed that Shelby used unreasonable force against Crutcher. After nearly 10 hours of deliberation, jurors returned a not-guilty verdict.
Just five days after her acquittal, Shelby returned to work on the police force but was no longer allowed on street patrol.
Shelby's resignation will be effective Aug. 3, the AP reported.