'EA Sports UFC 3' Fighters: Why Floyd Mayweather Jr should be a playable character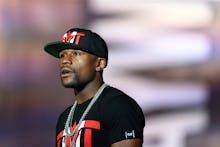 The hype for the Aug. 26 boxing match between Floyd Mayweather Jr. and Conor McGregor is at a fever pitch. The two men have been engaging in profane and vulgar trash talk during their international press tour, but interest appears to be high among the public for the fight.
EA Sports should attempt to piggyback off the popularity of the fight by attempting to gain the license to include Mayweather in their next UFC game. In fact, fans have already created Mayweather in EA Sports UFC 2, so we know there's a demand:
EA Sports UFC 3 Fighters: The case for including Mayweather
The fight on Aug. 26 is already an example of two combat sports colliding. Mayweather is the A-side in those negotiations, thus the fight will be contested in a boxing ring.
There will be fans who will long to see what a fight between Mayweather and McGregor would look like in the UFC's Octagon. Mayweather will almost certainly never agree to that fight, so the UFC could market Money's inclusion in the game as a way for McGregor to have his rematch on his terms.
Most expect Mayweather to wipe the floor with McGregor in boxing, but things would likely be a lot different under mixed martial arts rule. Mayweather's notoriety is undeniable. Thus his inclusion in the game's roster would raise appeal for the game and potentially open a new market for the title.
There's some precedence for this kind of a special character. Former heavyweight champion Mike Tyson was a playable fighter in EA Sports UFC 2. From a relevancy standpoint, it would make more sense to include Mayweather, considering he will have fought McGregor in what figures to be the highest-grossing combat sports event in history.
Getting Mayweather to agree to allow his likeness to be used might be tough–if it wasn't already a part of the negotiations for the fight with McGregor. Mayweather has scoffed at inclusion in the EA Sports Fight Night series in the past.
EA Sports UFC 3 is scheduled to be released during the first quarter of 2018.
More sports gaming news and updates
Love sports games? Check out more content from Mic, including tips for leveling up your NBA 2K17 MyPlayer, playing quarterback in Madden 17, our review of MLB The Show 17 and the classic Nintendo sports games we want to see on the Switch.