Jessica Williams takes down the patriarchy in 'The Incredible Jessica James' trailer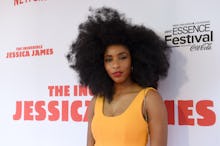 Jessica Williams has been on the brink of minor stardom for years. Now, after serving as correspondent on The Daily Show and co-hosting the popular 2 Dope Queens podcast, it looks like she's ready to make a major career leap with The Incredible Jessica James.
In a new trailer for the film, which hits Netflix July 28, Williams' charismatic, happily single character attends a baby shower and presents an unborn baby with a book titled The ABCs of Subverting the Patriarchal Paradigm. Between this and her character's takedown of manspreading in the show's teaser trailer, it looks like The Incredible Jessica James will have a take-no-prisoners approach to sexism.
The movie, which received glowing reviews when it premiered at the Sundance Film Festival early in 2017, also stars Bridesmaids star Chris O'Dowd and Get Out star Lakeith Stanfield. Written and directed by Jim Strouse, it follows Williams' Jessica James, a witty young playwright, as she navigates a challenging new romance.
Check out the trailer below.
Mic has ongoing Netflix coverage. Check out our main Netflix hub here.