Report: Number of people in Trump Jr.'s meeting with a Russian lawyer climbs to 8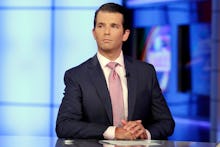 CNN on Friday reported that there was an eighth person involved in the meeting between a Russian government-connected lawyer and top members of President Donald Trump's campaign, including first son Donald Trump Jr., Trump's son-in-law Jared Kushner and former Trump campaign chairman Paul Manafort.
The eighth person was not yet named, but a New York Times reporter said his publication was about to publish the name "shortly."
It marks the latest revelation that Trump Jr. and senior Trump officials did not disclose after the existence of the meeting became public on Sunday.
That contradicts Trump Jr.'s promise during an appearance on Sean Hannity's Fox News program on Tuesday in which Trump Jr. said he had nothing else to report about the meeting.
It also comes just hours after yet another Russia-connected person was revealed to have sat in on the gathering: Rinat Akhmetshin, a former Soviet spy who is alleged to still be connected to Russian intelligence agents.
Trump Jr., Kushner and Manafort all met with Kremlin-connected lawyer Natalia Veselnitskaya under the pretense that she had damaging information about Hillary Clinton that was part of the Russian government's attempt to boost Trump's presidential bid.
Trump has brushed off the meeting, saying "most people" would have taken up an offer of opposition research on a political rival from a foreign adversary.
Trump also defended his 39-year-old son, Trump Jr., as a "good boy."