One of Jared Kushner's lawyers is dropping off of the Russia case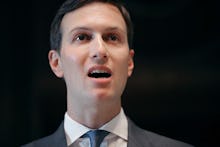 One of the lawyers representing President Donald Trump's son-in-law Jared Kushner in the ongoing Russia investigation is abandoning the case, according to Yahoo News.
Jamie Gorelick, a high-profile lawyer who had been representing Kushner in the probe, is "dropping out of the case" and turning over responsibilities to Washington criminal defense lawyer Abbe Lowell.
Lowell has represented several high-profile clients during unsavory scandals, including former presidential candidate John Edwards and corrupt Washington lobbyist Jack Abramoff.
Sources told Yahoo that Gorelick's resignation has been expected ever since Lowell came on board more than a month ago. Gorelick is known to run in primarily Democratic circles in Washington and held several key legal positions in the Clinton administration.
Gorelick also faced questions about potential conflicts of interest surrounding the fact that special counsel Robert Mueller, who is leading the Justice Department's inquiry into the Trump-Russia affair, had been a partner at Gorelick's law firm.