Former interpreter for the US government reported to have been in Trump Jr. meeting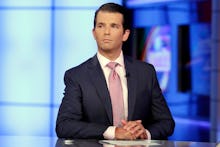 Yet another previously unknown person who was present at the 2016 meeting between Donald Trump Jr. and a Kremlin-connected Russian lawyer has been revealed.
Anatoli Samochornov, a Russian-born American translator, is reported to have been one of the other people who were in the room at the time of the meeting, according to New York Times reporter Ken Vogel. Samochornov has not confirmed his attendance to any news outlet, but his mother-in-law told the Daily Beast that he was present for the meeting.
Samochornov has been hired as a translator in the past for the U.S. State and Defense Departments as well as other agencies throughout the federal government.
Reports claim there were at least 8 people present at the meeting. So far the reported list includes Samochornov, Trump Jr., as well as Trump's son-in-law Jared Kushner, former Trump campaign chair Paul Manafort, Russian lawyer Natalia Veselnitskaya, British publicist Rob Goldstone and Russian-American lobbyist Rinat Akhmetshin.
There is still at least one person who was at the meeting that has yet to be identified. CNN describes that individual as "representative of the Russian family" on whose behalf the meeting was originally set up.