Trump administration considering expanding deportation powers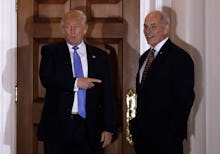 The Trump administration may expand the Department of Homeland Security's authority to expedite the deportations of undocumented immigrants, according to a memo obtained by the Washington Post.
According to the Post, the policy proposal currently under White House consideration would give the DHS power to bypass immigration courts and deport undocumented immigrants anywhere in the United States who "cannot prove they have lived in the country continuously for more than 90 days."
That would represent a major shift from current law, which allows such expedited deportations only in cases where the undocumented immigrant has been in the U.S. for less than two weeks and was taken into custody less than 100 miles from the border.
"The potential changes would allow DHS to more efficiently use resources to remove persons who have been illegally present for relatively brief periods of time while still observing due-process requirements," DHS spokeswoman Joanne Talbot told the Post.
The policy — which has not been approved by Homeland Security Secretary John Kelly — is designed to "eliminate incentives not only to enter the country unlawfully but also to attempt to quickly travel into the interior of the United States in an effort to avoid the application of expedited removal," according to the memo obtained by the Post.
It would address what the memo describes as a "historic backlog" of the more than 534,000 deportation cases that were pending at the beginning of 2017, the memo said.
President Donald Trump took a hardline stance on immigration during the 2016 presidential campaign. Since taking office, he's sought to create a "deportation force" by adding more border patrol agents and involving local police departments in immigration enforcement. He has also expanded the list of those targeted for deportation and reversed course on Obama-era immigration policies.
Trump has framed his immigration policies as being in the country's national security interests, saying he's only targeting "bad hombres." However, it was reported in April that non-criminal deportations doubled under Trump, and his policies and rhetoric have been the subject of massive protests.
Marielena Hincapié, executive director of the National Immigration Law Center, told the Post that the policy under White House review would move the administration closer to the deportation force Trump proposed.
"This is a radical departure from current policy and practice, which takes one giant step towards implementing Trump's deportation force across the nation," Hincapié said.