Honolulu High-Rise Fire: Sprinkler could have contained blaze that killed 3, injured 12, chief says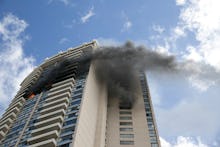 A sprinkler system would likely have contained the fire that killed at least three and injured 12 in a Honolulu high-rise apartment complex Friday, the city's fire chief said in a news conference.
"Without a doubt, if there were sprinklers in this apartment, the fire would be contained to the unit of origin," fire chief Manuel Neves told reporters Friday.
The 36-story Marco Polo apartment complex, near famous Waikiki Beach, was built in 1971, three years before sprinkler systems were legally mandated.
Firefighters were called to the scene around 2:30 p.m. local time. The blaze had apparently begun on the 26th floor and spread up to the 28th. Responders were able to get the fire "under control" by around 7 p.m. local time, according to Mayor Kirk Caldwell.
Two women and one man were found dead on the 26th floor of the apartment complex, according to CNN. Five people, including a firefighter, were hospitalized and in serious condition. Evacuated residents were taken to a nearby park.
The Honolulu apartment fire occurred about a month after a massive fire left dozens dead in the Grenfell Tower residential high-rise building in London.
Residents of the Hawaii high-rise condominium recounted the scene to reporters, with a 71-year-old woman from the 31st floor describing the blaze as being "like a horror movie," except "it was for real."
One resident told CBS News that he hadn't realized that the building didn't have a sprinkler system when he moved in.
"That's one thing that I wasn't aware of prior to moving in," the man said. "It was definitely shocking for me to know that there weren't any sprinklers installed in the building."
Caldwell said that the fire was a "good example of what it means when you don't have fire sprinklers," and said the city should consider passing a law mandating that sprinkler systems be installed in older buildings.
"The biggest argument is the affordability," Caldwell said. "Residents have to pay. It's pretty expensive. But if it saves a life and it's your life, it's worth the cost."