Mitch McConnell has $200 billion to convince wary senators to repeal Obamacare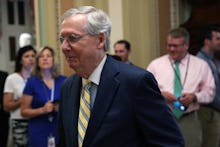 Republicans are trying to build new support for their mostly stalled effort to repeal and replace the Affordable Care Act by promising a series of state-specific handouts to reluctant senators.
The effort is not new, but Politico reported Saturday the current bill leaves Majority Leader Mitch McConnell with $200 billion to offer reluctant members of his party — a fortune even by the standards of big-ticket legislation, and enough for Senate leadership to have checked wish lists for at least six states.
In Alaska, reluctant Sen. Lisa Murkowski is being lured by at least $1.82 billion in stabilization benefits, which will not be enough to offset $3.1 billion in Medicaid cuts, Politico reported. Additionally, Florida's Sen. Marco Rubio has gotten funding formula changes that benefit hospitals with large numbers of poor, uninsured patients, as well as exemptions to Medicaid caps for dealing with large-scale public health emergencies.
According to Politico, Arkansas Gov. Asa Hutchinson has lobbied to secure an option to continue financing expansion populations via Medicaid block grants, and Louisiana, Alaska and Montana could potentially benefit from some changes to the funding formula. Finally, Republicans from New York may win a provision shifting $2.3 billion in Medicaid funding from counties to the state, enraging some Democrats who labeled it the "Buffalo Bribe."
The efforts to secure the additional Republican support likely will not do much to change the conclusions of the Congressional Budget Office, which estimated the Senate version of the legislation would kick some 22 million people off of health insurance by 2026 and send out-of-pocket health care costs skyrocketing. Fifteen million of those people could lose health care by 2018, per the CBO report.
As Politico noted, using individual state handouts to win over reluctant legislators was one of the tactics Barack Obama and his allies in Congress used to pass the ACA in the first place — and were heavily criticized by Republicans for doing so.