Here's a timeline of Jared Kushner's controversial security clearance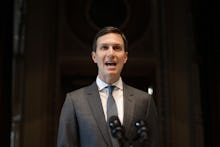 Democrats have renewed calls for President Donald Trump's son-in-law and senior adviser, Jared Kushner, to have his security clearance revoked after it was revealed that he attended a now-infamous 2016 Trump Tower meeting to collect dirt on Hillary Clinton from a Russian lawyer.
The meeting — set up by Donald Trump Jr. — apparently only came to the attention of government officials when Kushner disclosed it on a revised security form after omitting "dozens" of foreign contacts, including at least two with Russian officials, from his original clearance form.
Of the three Trump officials known to have been in the meeting — with Trump Jr. and former campaign chairman Paul Manafort — Kushner is the only one currently with an official White House job and top level security clearance.
"They absolutely must review his security clearance," Sen. Richard Blumenthal (D-Conn.) said this week. "He's indicated numerous meetings with the Russians, concealment of them, and the White House has offered contradictory statements about them."
Here is a timeline of Kushner's security clearance.
December 2016
Kushner, who served as an official adviser to his father-in-law's campaign, meets with Russian ambassador Sergey Kislyak, who sets up another meeting between Kushner and Russian spy school graduate Sergey N. Gorkov, the head of state-owned Russian bank Vnesheconombank, which has been a target of United States sanctions.
January 2017
Kushner is named senior adviser to the president by Trump, which critics say represents a possible violation of anti-nepotism laws.
On Jan. 18, he submits his security clearance form, which requires him to disclose encounters with foreign government officials in the last seven years. The correspondence reportedly does not include any foreign names whatsoever.
April 2017
A report emerges indicating that Kushner had left "dozens" of foreign contacts off his security form — a federal felony carrying fines or up to five years imprisonment if the information is found to be "knowingly" concealed or falsified.
Jamie Gorelick — Kushner's lawyer — tells the New York Times that the form had been submitted prematurely and that the day after delivering the form to the FBI, Kushner's office notified the bureau that it was compiling supplemental information.
"During the presidential campaign and transition period, I served as a point-of-contact for foreign officials trying to reach the president-elect," Kushner told the FBI, according to Gorelick. "I had numerous contacts with foreign officials in this capacity. … I would be happy to provide additional information about these contacts."
House Democrats call for Kushner's interim security clearance to be suspended. It isn't.
May 2017
The Times reports that Kushner's December meeting with Gorkov may have been part of an effort by Kushner to set up a secure line of communication between the Trump transition team and the Kremlin.
The report came after it was revealed that the FBI's probe into the Trump campaign's potential ties to Russia had expanded to include Kushner. The FBI had begun investigating him because of the "extent and nature of his interactions with the Russians."
Once again, Democrats call for Kushner's security clearance to be revoked. Once again, it isn't.
June 2017
Lawyers for Trump learn of incriminating emails between Donald Trump Jr. and Rob Goldstone, a music publicist who set up the meeting the president's son, Manafort and Kushner had with Kremlin-connected lawyer Natalia Veselnitskaya.
"This is obviously very high level and sensitive information but is part of Russia and its government's support for Mr. Trump," Goldstone wrote of supposed dirt the lawyer had on Clinton.
"If it's what you say I love it," Trump Jr. responded.
On June 21, after the emails are discovered, Kushner amends his security clearance form to include the meeting.
July 2017
The Times reveals that the June 9, 2016 meeting in Trump Tower occurred and that Kushner was among those present. Trump Jr. claims that the meeting had been primarily on a "program about the adoption of Russian children," and he had Kushner "stop by." Kushner's attorney confirmed the meeting and said that her client had "since submitted this information."
Soon after, it is revealed that Trump Jr. had set up the meeting on the promise of damaging information about Clinton, his father's opponent in the 2016 election. Moreover, he was told that information was coming from the Russian government.
By the end of the week, the number of individuals known to be present in the now-infamous meeting climbs to eight — including Rinat Akhmetshin, a Soviet spy-turned-lobbyist who accompanied Veselnitskaya to the meeting.
That Kushner more than once had to amend his SF-86 leads to heavy scrutiny over his security clearance.
Trump defends his eldest son as a "high quality person" and a "good boy."
He doesn't appear to offer any comment on Kushner.