'Her Story' creator working on 'Telling Lies,' a spiritual sequel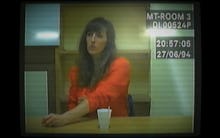 Her Story was an indie darling when it released in 2015, and creator Sam Barlow is working on a spiritual successor. Telling Lies will have the same interactive movie format as Her Story, but with more polish and a grander scope.
Telling Lies will tell an entirely new story with a political thriller feel, according to PC Gamer. Barlow says there will be three or four main characters, but other details are scarce. He also stated that the audience for games like Her Story is people who don't regularly play video games, but enjoy the storytelling found in them. He aims to mesh the feel of a movie or TV show with the freedom to let the audience control the camera.
Annapurna Interactive, known for great indies like What Remains of Edith Finch, will be publishing Telling Lies, but a release is still a while off. Barlow is still penning the script for the game, and filming isn't set to start until late this year or early next.
More gaming news and updates
Check out the latest from Mic, like this essay about the sinister, subtle evils lurking in rural America that Far Cry 5 shouldn't ignore. Also, be sure to read our review of Tekken 7, an article about D.Va's influence on one Overwatch player's ideas about femininity and an analysis of gaming's racist habit of darkening villains' skin tones.