White House hires attorney Ty Cobb to coordinate Russia response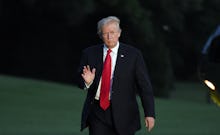 Ty Cobb — a former federal prosecutor — has been hired to coordinate the White House response to the investigations into the Trump campaign's ties to Russia, according to reports.
Cobb, a partner at Hogan Lovells who focuses on white collar crime, will serve as a special counsel to the White House, the administration confirmed Saturday.
The news comes a week after it was revealed that President Donald Trump's eldest son, Donald Jr., met with a Kremlin-connected attorney shortly after his father clinched the Republican nomination. Though Trump Jr. initially said the two mainly discussed adoption of Russian children, it was reported that he had been promised damaging information about Hillary Clinton — that emails released by Trump Jr. showed he knew would be coming from the Russian government.
Cobb, a relative of the baseball great, will join Trump's legal team, which has so far been led by the brash Marc E. Kasowitz.
Kasowitz, a longtime Trump attorney, has reportedly clashed with his client, and was the subject of controversy on Tuesday when it was reported that he sent a stranger a threatening email, telling the person to "watch your back, bitch."
Cobb will take over for Kasowitz on the media and legal response to special counsel Robert Mueller's quickly accelerating Russia probe, according to Bloomberg, which first reported Cobb's hiring.
According to Reuters, the 66-year-old white collar defense attorney has represented a number of officials in the midst of government investigations, including two during the investigation into former President Bill Clinton's administration.
Cobb is regarded as skilled at "managing crises and dealing with corruption allegations," Bloomberg reported, and has known special counsel Mueller for a number of years.
The hiring is seen as a sign that Kasowitz — who reportedly knew about Trump Jr.'s emails setting up the 2016 Russia meeting for at least three weeks — can't handle the full load of the president's response to the Russia investigation himself, according to the New York Times.
The White House has apparently been seeking to beef up its legal team for weeks, but has reportedly struggled to find top Washington, D.C., criminal defense attorneys willing to work on their behalf.
On Friday, Jamie Gorelick — a lawyer for Trump's son-in-law and senior adviser Jared Kushner — announced that she was stepping back from matters related to the Russia investigation and turning over responsibilities to high profile criminal defense lawyer Abbe Lowell.
Donald Trump Jr. has also lawyered up in the aftermath of the Russian meeting reveal, hiring Alan Futerfas — a criminal defense attorney who has previously represented members of organized crime syndicates.
Cobb will play "traffic cop, enforcer of discipline, and public spokesman" for the embattled White House, sources familiar with the hiring told Bloomberg.