Mena Massoud, Naomi Scott and Will Smith cast in live-action 'Aladdin'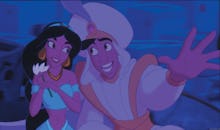 Disney has finally revealed the cast of its live-action remake of 1992 hit animated fantasy film Aladdin, io9 reported on Saturday.
The Guy Ritchie-directed film will star Egyptian-Canadian actor Mena Massoud, formerly best known for his role in Jack Ryan. His co-star as Princess Jasmine will be English actress Naomi Scott, who is partially of Gujarati heritage.
Also officially confirmed is that the role of Genie, made famous by Robin Williams, will be played by superstar Will Smith as has long been rumored, io9 wrote.
According to Screenrant, Massoud beat out fellow finalists Achraf Koutet and George Kosturos for the role, while actor Tom Hardy is rumored for the role of villain Jafar. Filming likely begins in late 2017 or 2018.
As recently as July 11, rumors were swirling that Ritchie and the film's producers were struggling to find stars for the project.