'Star Wars Battlefront 2' Campaign: Behind-the-scenes footage from D23 Expo shows more single-player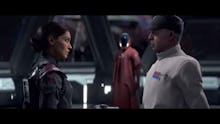 At Disney's D23 Expo, we got a new behind-the-scenes look at the Star Wars Battlefront 2 (2017) single-player mode. It looks like EA is putting a lot of effort into addressing the major qualms players had with the lack of campaign in Star Wars Battlefront (2015), and the more I see, the more I want to know about Iden Versio and the members of Inferno Squad.
Star Wars Battlefront 2 Campaign: Playing single-player as an Imperial
Star Wars Battlefront 2's campaign is all the more intriguing for its subject matter. Throughout the hundreds of pieces of Star Wars media, we've rarely gotten a chance to see the galaxy from behind the eyes of an Imperial. In fact, I don't remember a video game putting you in that role since Star Wars: TIE Fighter released in 1994. And no, The Force Unleashed doesn't count because Starkiller wasn't a rank-and-file Imperial soldier.
During this story, however, we'll be playing the role of Iden Versio shortly after the death of the emperor at the Battle of Endor as seen in Return of the Jedi. This is a period in Star Wars that hasn't been explored in the new canon, and seeing the Imperials as underdogs is going to be odd.
Hopefully, we'll get to see a few things in the campaign that expand upon the obscure origins of the First Order and the creation of the New Republic. How much time the Battlefront 2 campaign stretches across isn't known yet, but it would be cool to see it somehow tie into The Last Jedi.
We'll get a chance to learn the story of Iden Versio and Inferno Squad soon. Star Wars Battlefront 2 will be released Nov. 17.
More gaming news and updates
Check out the latest from Mic, like this essay about the sinister, subtle evils lurking in rural America that Far Cry 5 shouldn't ignore. Also, be sure to read our review of Tekken 7, an article about D.Va's influence on one Overwatch player's ideas about femininity and an analysis of gaming's racist habit of darkening villains' skin tones.