Senate delays health care vote until John McCain recovers from surgery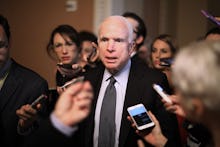 Senate Majority Leader Mitch McConnell announced Saturday night that the Senate will delay its upcoming health care vote, as Sen. John McCain recovers from recent surgery.
The vote, which was originally slated to take place this week, will now be deferred until McCain returns to the Senate. The Arizona senator underwent surgery Friday to remove a blood clot from above his left eye and has been advised by his doctors to spend the next week recovering in Arizona, according to a statement quoted by AZ Central.
"While John is recovering, the Senate will continue our work on legislative items and considerations, and will defer consideration of the Better Care Act," McConnell said in a statement released on Twitter.
McCain's vote in favor of the largely unpopular health care bill is crucial for its passage. The Republicans currently have a 52-48 seat majority in the Senate, and with two Republican senators, Sens. Susan Collins and Rand Paul, having come out in opposition to the bill, along with all 48 Democrats, the bill needs the support of all 50 remaining Republican senators in order to pass.
Whether or not the health care plan will pass even with McCain's vote, however, still remains to be seen. Several Republicans, including Sens. Shelley Moore Capito (R-W.V), Dean Heller (R-N.V.), Lisa Murkowski (R-A.K.) and Rob Portman (R-O.H.) have expressed reservations about the controversial bill, which, according to a Kaiser Family Foundation poll released July 14, is currently viewed unfavorably by 61% of Americans.
In an appearance on CBS's Face the Nation July 9, McCain himself didn't seem optimistic about the bill's chances, criticizing the way in which Sen. McConnell decided to "ram [the bill] through" with no input from Democrats.
"I think my view is it's probably going to be dead, but I am — I've been wrong. I thought I'd be president of the United States. But I think — I think I fear that it's going to fail," McCain said.