Who is Jodie Whittaker, the first ever female actor to play Dr. Who since role was created in 1963?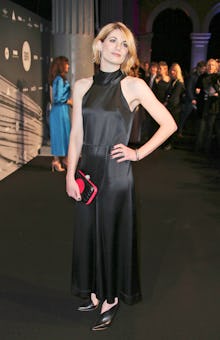 On Sunday, the official Twitter account for Dr. Who announced that Jodie Whittaker will become the 13th actor to play the time-traveling cult favorite. Whittaker's casting marks the first ever woman to play the role since William Hartnell originated it in 1963.
"I'm beyond excited to begin this epic journey – with Chris and with every Whovian on this planet," Whittaker said, according to Metro. "It's more than an honor to play the Doctor. It means remembering everyone I used to be, while stepping forward to embrace everything the Doctor stands for: hope. I can't wait."
Whittaker is perhaps best known for her turn as Beth Latimer on the BBC series Broadchurch, for which she was nominated for best actress at the Royal Television Society awards. She also costarred in the movie Venus, which garnered the late Peter O'Toole his eighth Academy Award nomination.
Love Actually's Kris Marshall, Fleabag's Phoebe Waller-Bridge and Game of Thrones' Natalie Dormer were also considered for the role, according to HuffPost.
Some tweeted at the announcement to express concern over the choice to cast a woman in the role.
Others were thrilled that a woman was finally cast, some even taking pleasure at seeing so many men appear vexed over the decision.
Whittaker replaces actor Peter Capaldi, the 12th actor to play the lead, in the iconic role.
"Anyone who has seen Jodie Whittaker's work will know that she is a wonderful actress of great individuality and charm," Capaldi said of his successor, according to Metro. "She has above all the huge heart to play this most special part. She's going to be a fantastic Doctor."