Cosmo DiNardo and Sean Kratz charged with murder of 4 men in Bucks County, Pennsylvania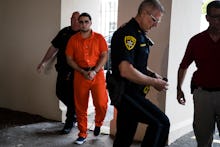 Two men were charged on Friday for four murders in Bucks County, Pennsylvania, ending a shocking investigation that has rattled the Philadelphia suburb.
Cousins Cosmo DiNardo and Sean Kratz, both 20 years old, were arrested and charged for the murders of Jimi Taro Patrick, Dean Finocchiaro, Thomas Meo and Mark Sturgis earlier this month. DiNardo was charged with all four killings and Kratz with three, according to the New York Times.
In addition to the charges of criminal homicide, both were charged with multiple counts of conspiracy to commit criminal homicide, abuse of a corpse and robbery, 6ABC reported.
The grisly murders began with the victims' attempts to purchase marijuana from DiNardo, though it still remains unclear how the low-level drug transactions escalated into murder, according to authorities.
"I'm not really sure if we could ever answer that question," Bucks County District Attorney Matthew D. Weintraub said at a news conference, as quoted by the Times.
The murders
Prosecuters say DiNardo's killing spree began on July 5, when DiNardo brought Patrick to his family's farm in Solebury, Pennsylvania, to sell him four pounds of marijuana for $8,000.
DiNardo and Patrick, 19, were classmates at Holy Ghost Preparatory School in Bensalem, Pennsylvania, and Patrick had just completed his first year at Loyola University. Philly.com notes that all four victims appeared to have connections to DiNardo through school or his social interactions.
After Patrick revealed that he only had $800, DiNardo reportedly agreed to sell him a shotgun instead. DiNardo then brought Patrick to a remote part of the Solebury farm, where he shot and killed Patrick and buried his body, Philly.com reported.
The murders continued on July 7, when DiNardo, now joined by Kratz, met up with Finocchiaro, a 19-year-old living in Langhorne, Pennsylvania, to sell him a quarter-pound of marijuana for $700.
The two cousins told police that they had planned to rob Finocchiaro, according to the Times, but ultimately ended up shooting him in a barn on the Solebury farm. Each cousin claimed in an interview with police that the other had been the one to shoot Finocchiaro, the Times reported.
Later that evening, Meo and Sturgis met a similar fate when meeting the two cousins at the farm for a marijuana deal. In their report to police, as reported by the Times, the two cousins described shooting Meo in the back and, subsequently, shooting Sturgis as he attempted to flee. The cousins ran out of ammunition during their attack and then drove over Meo's body with a backhoe to ensure he was dead, the reports noted.
The bodies of the three men killed on July 7 were placed in a tank the cousins referred to as a "pig roaster," DiNardo told police, as the two attempted to burn the corpses. When that proved unsuccessful, the killers buried the three bodies on the Solebury farm.
Both DiNardo and Kratz were known to police prior to their killing spree, the Times reported. Bensalem police chief Frederick Harran told the Times that DiNardo had 30 interactions with the township's police since 2011. Only one time had led to an arrest, however, when DiNardo — who was diagnosed with schizophrenia, Philly.com noted — was found in possession of a firearm after having been committed to a mental hospital.
Kratz, a resident of Montgomery County, had previously been arrested three times in eight months, including arrests in Philadelphia in June 2016 and in February on charges of burglary, theft, receiving stolen property and other charges, according to the Times.
Investigation and aftermath
Police investigating the four men's disappearance began narrowing their sights on DiNardo's family farm after two of the men's cars were found nearby, according to Philly.com. The Times reported that investigators also began to focus on the farm based on a signal from Finocchiaro's cell phone.
As law enforcement began searching the Solebury property, DiNardo was arrested by authorities on Monday over his prior firearm charge, which had previously been dropped in May due to faulty paperwork. On Tuesday, DiNardo was named a "person of interest."
Though DiNardo posted bail on Tuesday night, he was re-arrested on Wednesday for allegedly stealing Meo's car, and his bail was set at $5 million. That same night, investigators discovered the mass grave where three of the bodies had been buried on the DiNardo property.
On Thursday, DiNardo came clean about his actions, confessing to the murders and identifying Kratz as a co-conspirator in exchange for prosecutors not seeking the death penalty against him. DiNardo also directed investigators to the site of Patrick's body as part of the agreement, which had not yet been found.
"I'm sorry," DiNardo said to reporters as he was led away in shackles after his confession, as quoted by Philly.com.
It is unclear whether or not Weintraub will seek the death penalty against Kratz, Philly.com noted.
In the wake of the murders, Bucks County residents have supported the victims' families, gathering at a nearby shopping mall to wait for updates on the investigation and leaving flowers outside of the DiNardo's farm.
CNN notes, however, that the Pennsylvania community remains "unsettled" and continues to question how such a harrowing tragedy could have occurred in the quiet suburban area.
"People are really very much disoriented and in shock and asking, 'Is this actually the end of the world?'" Father Paschal Onunwa, parish vicar of Our Lady of Mount Carmel Church in Doylestown, Pennsylvania, told CNN. "They're not used to this kind of tragedy."