ModCloth's 15th anniversary: A look at how one tiny brand changed the landscape of inclusive fashion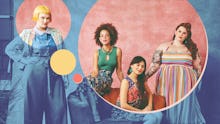 Fifteen years ago today, ModCloth came into existence in the same place many a wild, lofty and ambitious idea is born: a dorm room. At first, it was a site where ModCloth co-founder Susan Gregg Koger could sell some of her favorite vintage pieces that had left her closet overflowing and overwhelming. Her then-boyfriend, now-husband Eric Koger helped build the website, thinking that this was all about making Susan's closet more manageable. But 15 years later, this tiny retro-loving clothing retailer is now, rather ironically, one of the most progressive and inclusive brands around.
Before Aerie and Asos chose not to airbrush their models, ModCloth was already at it. Before Khloé Kardashian and Zendaya embraced inclusive sizing that doesn't put plus sizes in a different category, ModCloth was already at it. Before British Vogue and Lonely Lingerie showed clothes on women who aren't models, ModCloth was already at it.
ModCloth is at the epicenter of what many deem progressive retailers now. How did it get here? According to ModCloth's current CEO, Matt Kaness, who's been with the company since 2015, all roads lead to Susan Gregg Koger.
"All credit should go to Susan, not just as the founder and the entrepreneur who built the concept and the cult following around the brand, but also built the values that line up with where our customers are going," Kaness said in an interview. "Susan really made the company that she wanted to work for. She said, 'Who says things have to be a certain way?' That's how ModCloth was born."
Speaking of "cult following," more than perhaps any other major brand right now, ModCloth's customer base is passionate about helping one another. Shoppers regularly post pictures of themselves in certain items directly to ModCloth's website. They chime in on social media, encouraging the brand with comments like: "I'm so inspired by you guys, pretty has a new definition to me now." And they weigh in on blog posts, often with earnestly sweet messages for the person featured.
"We have really unique customers and really listen to them," Lizz Wasserman, ModCloth's fashion director who's been with the company since 2015, said in an interview. "I think the progressiveness is pretty natural for us because of them. Susan had always done real-women casting, finding beautiful women everywhere, but I think the other thing that has led us to everything we've accomplished is our community. Our community is the most interesting women we've met."
It's a community that's been thrilled with the company's long-held belief that their clothing can look best on models and non-models alike, with ModCloth championing diversity by bringing in customers and non-models who are various sizes and identities in its campaigns.
It's a community that was thrilled with ModCloth signing a pledge to never airbrush its models in 2014, and fighting for more companies to do the same on Capitol Hill in 2016. It's a community that actually sparked ModCloth's idea for doing away with their plus-size sections instead favoring a system where clothes simply go up to a certain size without much fanfare.
"Women wanted to shop together, to share the experience," Kaness said. "The way we were going to market, we were segregating our market based on size, which was counter to the values that Susan had built this business on. So as the CEO, I immediately started working on creating an inclusive shopping experience so that the social commerce digital brand could translate to a real-world experience."
When Kaness entered the company, 20% of clothes were available in ModCloth's full size range of XXS to 4XL. Now it's more like 70% and counting. Additionally, ModCloth's sole brick-and-mortar store in Austin, Texas, doesn't have a denoted plus-size section, which is an idea that came to fruition when Kaness stopped by a ModCloth pop-up in Los Angeles in 2015.
"We had so many women come in and say, 'Where is the plus section?' And we said, 'There is no plus section!'" Kaness said. "And the looks on these women's faces, like, 'My friends and I can shop the same assortment?' That's when we said, OK, if we're really going to do this, and do it inclusive all the way through, we have to give our entire community the same experience."
In a sense, every step ModCloth's taken to a more progressive fashion future is a testament to their customers' fervor. As ModCloth paves the way for what a truly progressive brand really is, though, are they peeved that other brands are riding on their forward-thinking coattails a little? In short, not a bit.
"I don't think anybody that works at ModCloth wants ModCloth to be the only company doing these good things," Wasserman said. "That just means that our community would be having a negative shopping experience every day they don't shop with us."
Ultimately, other brands making the same progressive moves ModCloth's done has only made the company try to progress harder. "From the competitive perspective, it means we have to keep on evolving," Kaness said. "As more people started doing things that we had done, it just meant that we had to continue to evolve and further differentiate not just about being size-inclusive and having relatable women in our photography, because part of our ethos is celebrating the diversity of our community, but we had to continue to get better in product and service."
So it's really the community, as well as impassioned and dedicated employees, that has let ModCloth flourish the way it has. In 2013, it reported 40% year-over-year growth and more than $100 million in annual revenue. But in 2014, numbers started to slip, and layoffs ensued.
With ModCloth's future then unsure, Wal-Mart acquired the brand in early 2017, causing panic and even rage among ModCloth's base. What business does ModCloth, a company that prides itself on fighting for a fairer fashion future, have being associated with Wal-Mart, a company that has come under fire for unfair labor practices for years?
For Kaness, he can't tell quite yet, but he sees the sale as an opportunity for ModCloth's brand to become bigger, given the financial stability a sale like this one gives the company. "Now we have the opportunity to think about how to scale this business around this inclusive assortment to a much bigger audience, and invest in better service," Kaness assured.
Ultimately, Wal-Mart or no Wal-Mart, what Kaness sees in ModCloth's future is its dedication to inclusivity only getting deeper. "Susan started out with ModCloth being the brand that inspires personal style and helps every woman feel like the best version of themselves," Kaness said. "I think those words are still relevant today. But I would take that a step further, and say we want to be the most inclusive fashion brand in America. I think that's a really lofty goal — and one that we're well on our way on."
Hopefully for the brand and the brand's customers, another lively 15 years is in store, too.