Ann Coulter goes on unhinged rant after being moved to different seat on Delta flight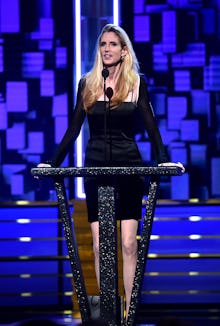 For the last twenty hours and counting, Ann Coulter has been on an tirade after Delta Airlines apparently decided Saturday to force her to leave her pre-booked seat — which apparently had extra leg room — and switch with another passenger elsewhere on the flight.
Coulter posted a photo Saturday of the passenger she said was in the seat for which she paid extra in advance. She also railed against the airline staff, calling gate agents and flight attendants "Nurse Ratchets."
Nurse Ratched is the main character in the 1975 film One Flew Over the Cuckoo's Nest. Coulter spelled the character's name incorrectly.
Coulter has managed to use her alleged inconvenience by Delta to shoehorn her complaints about everything from the Affordable Care Act to immigration.
A spokesperson for Delta told Mic that the airline has reached out to Coulter to address her complaint, and clarified that she was moved to another seat in the exact same row — just not the specific seat she preselected.
Despite this, Coulter has continued her screed against the airline on Twitter.