'Kingdom Hearts 3' Switch: Nintendo might see a release after Xbox One and PS4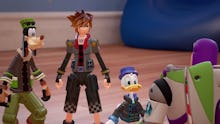 After finally revealing somewhat of a release date for the hotly anticipated Kingdom Hearts 3 during Disney's D23 Expo, Square Enix had more in store for fans. During an interview session between IGN and Kingdom Hearts 3 director Tetsuya Nomura, some pretty important tidbits about where the game could land in the future were shared: A Kingdom Hearts 3 Nintendo Switch release isn't out of the question.
According to Nomura, fans could potentially see a Nintendo Switch version of Kingdom Hearts 3 or Xbox One versions of Kingdom Hearts HD I.5 and II.5 ReMix or Kingdom Hearts HD II.8 Final Chapter Prologue in the future. There's a caveat, though. According to Nomura, the PlayStation 4 and Xbox One versions of Kingdom Hearts 3 will have to be completed before talks of a Switch version could come to fruition.
Kingdom Hearts 3 Switch: Tetsuya Nomura on bringing the game to other platforms
During his interview with IGN, Nomura stated that the Switch is a "very interesting piece of hardware," but he expressed concern that if the game is brought to the Switch, other players will be concerned with it coming to the PlayStation 4 and Xbox One versions too.
"We want them out first. Don't focus on other platforms," Nomura imagined fans might say if the Switch version was worked first. "So for now, we want to focus on what platforms we've already announced we're going to be releasing Kingdom Hearts 3 on. And so after, perhaps, maybe we can start thinking about other possibilities."
So it's possible that a Switch version of Kingdom Hearts 3 could be well on its way, but only after the other consoles in question are worked on first. Nomura wasn't nearly as chatty about the matter of bringing HD collections of the games to Xbox One. He noted that he wasn't quite sure that there's demand outside of the West for the collections, going back to his comment on the fact that the team will want to work on the platforms already previously announced.
If you thought you'd never see a Kingdom Hearts game on Nintendo's latest handheld, you've got a glimmer of hope in your future, though it might be quite some time until that ever happens. Still, it's something to hold onto. Kingdom Hearts 3 isn't currently slated for release until 2018, so no matter what you're playing it on, you've still got awhile to wait before you can get your hands on it.
More gaming news and updates
Check out the latest from Mic, like this essay about the sinister, subtle evils lurking in rural America that Far Cry 5 shouldn't ignore. Also, be sure to read our review of Tekken 7, an article about D.Va's influence on one Overwatch player's ideas about femininity and an analysis of gaming's racist habit of darkening villains' skin tones.