'Game of Thrones' Mods: 3 PC total conversions to play during Season 7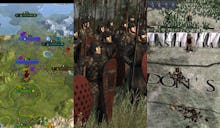 Game of Thrones season seven starts Sunday, and after you watch it, you'll need something to sate your desire for A Song of Ice and Fire media until the next episode. Unfortunately, the officially licensed Game of Thrones video games leave something (or a lot) to be desired, but luckily there's a dedicated fan base out there creating some excellent mods for a plethora of PC games. Below we've gathered three of our favorite Game of Thrones mods for PC that are sure to give any fan hours of enjoyment.
Game of Thrones Mods: Crusader Kings 2: A Game of Thrones
Game of Thrones is as much about the political intrigue as it is about the battles and brutality of life in Westeros. If you're looking for a ton of action, Crusader Kings 2 isn't the game for you, but if you want the ability to truly experience the tangled web of relationships between the various characters from Game of Thrones, this is the game for you. Even if you're used to playing the base Crusader Kings 2 game, the Game of Thrones mod can be intimidating. You may want to watch some videos of others playing it — like the one above — before you give it a try.
A Game of Thrones for Crusader Kings 2 has full maps of both Westeros and Essos and has several time periods you can pick to play in. You can drop into Westeros before the Seven Kingdoms were united, experience the rebellion against the Mad King Aerys Targaryen by Robert Baratheon and Ned Stark, or be plunged into the war that occurred after Robert's death. With so many options, this mod is the foremost simulation of the relationships between the characters in A Song of Ice and Fire throughout the series's history.
You can get Crusader Kings 2: A Game of Thrones from ModDB.
Game of Thrones Mods: Civilization V - A Mod of Ice and Fire
For those that want a little more hands-on management without losing all the political intrigue, Civilization V's A Mod of Ice and Fire is great. It includes huge maps of Westeros and the Known World along with completely revamped Game of Thrones-themed civilizations.
Each civ has its own unique trait, three special units or buildings and city names matching those from the Game of Thrones books and TV show. There are also franchise-accurate religions in which civs follow the Lord of Light R'hllor, the Seven, the Old Gods or a host of other A Song of Ice and Fire religions. The mod is available on Steam Workshop, so you just have to subscribe from there, and it'll be ready to play.
Game of Thrones Mods: Total War: Attila - Seven Kingdoms: Total War
If you're into more action and competition, the Seven Kingdoms: Total War mod for Total War: Attila is for you. This mod seeks to recreate the armies of the Seven Kingdoms in exquisite detail, and currently features 25 playable armies with 30 characters from the show acting as generals.
The soldiers in Seven Kingdoms: Total War look awesome, and you can recreate battles from the show and books or hypothetical battles you always wanted to see. Unfortunately, due to limitations in modding tools, there isn't a campaign mode for the mod, but you can play skirmishes and multiplayer to your heart's content.
You can download Seven Kingdoms: Total War for Total War: Attila on ModDB.
Game of Thrones Mods: Where to find more
The three above are some of the most polished Game of Thrones mods available for PC, but they're far from the only ones available. You can check Steam Workshop, ModDB and NexusMods for more great mods for the games you love. If you don't see one for the game of your choice, keep an eye out. New Game of Thrones mods are popping up every day.
More gaming news and updates
Check out the latest from Mic, like this essay about the sinister, subtle evils lurking in rural America that Far Cry 5 shouldn't ignore. Also, be sure to read our review of Tekken 7, an article about D.Va's influence on one Overwatch player's ideas about femininity and an analysis of gaming's racist habit of darkening villains' skin tones.