Under siege on Russia and health care, Trump's White House plans more "theme weeks"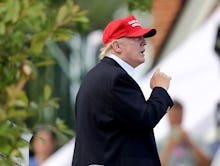 President Donald Trump's White House, bogged down by yet more revelations into his team's alleged connections to Russian agents who leaked damaging information about Democrats during the 2016 elections and a foundering Affordable Care Act repeal bill from the GOP in Congress, is responding by turning to "theme weeks."
According to Politico, in the next three weeks the administration "will hold events pertaining to three vaguely defined themes: 'Made in America,' 'American Heroes' and 'American Dreams.'" The first week will include at least two events celebrating U.S.-made products, including a "product showcase" of items made in all 50 states, while White House spokeswoman Helen Aguirre Ferre suggested the hero-themed week would be centered around veterans.
In the past, Trump's theme weeks have largely been overshadowed by the various scandals plaguing his administration and relentless mockery by its critics. His "infrastructure week," for example, quickly fell apart as the focus turned to his decision to mock London Mayor Sadiq Khan on Twitter for Khan's response to a terror attack. That week also saw former FBI Director James Comey's damning testimony that the president had tried to coerce him over an investigation into former National Security Adviser Michael Flynn's alleged misconduct.
Similar controversies seem likely to plague the White House's renewed efforts. The Republican plan to repeal and replace the ACA is failing to gain enough traction to achieve a simple majority in the Senate, while more unflattering stories about Trump and his team's links to Russia have continued to emerge on a near-weekly basis.