Australian woman fatally shot by Minneapolis police officer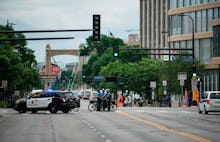 A 40-year-old Australian woman was fatally shot by a Minneapolis police officer outside her home Saturday night after allegedly calling 911 to report a potential assault.
According to local Australian news, the woman — identified as Justine Damond from Sydney — was in her pajamas when she approached a responding police vehicle in an alley behind her home in Minneapolis's Fulton neighborhood. After speaking to officers through the window, the officer in the passenger seat abruptly shot Damond through the driver's side door, killing her. No weapon was found at the scene.
The Sydney Morning Herald reports that Damond, who also went by Justine Ruszczyk, was engaged to marry an American man.
In a press release, the Minnesota Bureau of Criminal Apprehension said that it was conducting an investigation into the incident and would be performing an autopsy. The police officers who responded to the Saturday night 911 call were equipped with body cameras, the press release said, but the cameras had been switched off at the time the incident occurred.
During a press conference, Minneapolis Mayor Betsy Hodges said that she was "heartsick and deeply disturbed by what occurred last night."
"There are still many questions about what took place, and while the investigation is still in its early stages, I am asking the BCA to release as much information, as quickly as they are able to," she added.
On Sunday, members of the Minneapolis chapter of the Women's March gathered for an afternoon vigil to pay tribute to Damond.
"This woman was a beautiful light. She was a healer, she was loved. She should still be here," one woman told the crowd.
"This should not have happened. ... that could've been me, that could've been you, that could've been you, that could've been any of us. And we're gonna talk and we're gonna work as a community to make sure this doesn't happen again," she added.