'Kingdom Hearts 3' Drive Forms: New abilities revealed in D23 expo trailer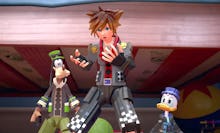 It's all aboard the hype train for the new Kingdom Hearts game. A heck of a lot of new Kingdom Hearts 3 footage was released at Disney's D23 expo. In addition to a release date window of 2018, the trailer sheds light on some of Sora's new drive form abilities.
Let's take a look.
Kingdom Hearts 3 Trailer: Every drive form shown at D23
The first of Sora's keyblade transformations is called "double arrowguns," transforming the keyblade into something similar to dual-wielded pistols that shoot magic-looking missiles.
From there, Sora morphs the keyblade into the "magic launcher," a much beefier-looking cannon that lobs a giant, explosive ball of magic at enemies.
Once Sora and the gang travel to the miniaturized world of Toy Story, Sora unleashes a few new moves. First, he uses "hyper hammer" against some Heartless in Andy's driveway, which transforms the keyblade into a comically large hammer.
And, finally, Sora's keyblade morphs into a giant drill with the "drill punch" drive form. Its most powerful ability deploys a giant whip inspired by the claw machine that the group of alien toys worship from the first Toy Story movie.
The full trailer from D23 is embedded below. Kingdom Hearts 3 will be available in 2018 for PS4 and Xbox One.
Kingdom Hearts 3 trailer
More gaming news and updates
Check out the latest from Mic, like this deep dive into the cultural origins of Gamergate. Also, be sure to read this essay about what it's like to cosplay while black, a roundup of family-friendly games to play with your kids and our interview with Adi Shankar, producer of the animated Castlevania Netflix series.