'Pokémon Go' Fest Challenge: Will poor weather ruin the Chicago event?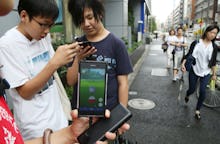 The Chicago Pokémon Go fest takes place this weekend on July 22. For trainers in the Chicagoland area, there's a lot of prep to do — like making sure you have enough supplies to participate in the event or trying to snag a ticket from Sprint if you missed your chance when they went on sale.
Unfortunately, one element threatens to throw a wrench in the whole event: bad weather. Chicago's notorious for it — even into the spring and summer — so it pays to be prepared. Read on below for some tips from the local Pokémon Go community.
Pokémon Go fest challenge: Prepare for the worst
A post on Pokémon Go community subreddit the Silph Road alerted players to the possibility of poor weather for the event. One user going by the name Infinipro noted that there is a 60% chance of showers on July 22 and encouraged players to bring rain gear and jackets. They also advised bringing layers to the event, since breezes coming off Lake Michigan can account for a 20 degree difference in temperature, even in the summer.
Other posters argued that posting about the weather a week out was fruitless, especially in the Midwest. However the current weather pattern may support Infinipro's claim.
"The pattern favors hot, humid and periodic lines of storms," wrote lpangelrob. "Probably won't know the details of the day until the morning of, though." It may prove difficult to adequately prepare for inclement weather for one simple reason: no umbrellas allowed.
One poster wrote that umbrellas were on the prohibited items list for the fest. According to another poster named capri1722, there are a few reasons for this — umbrellas with pointed tips usually aren't allowed for safety reasons, and other umbrellas may just be a casualty of making things easier to enforce.
So if you're worried about getting wet, it looks like a rain poncho and a ziplock baggie for your phone will have to suffice. That said, even Infinipro was confident that rain wasn't going to ruin the fest for anyone. However If you're planning on going to the fest, it'll probably pay to be prepared.
More Pokémon Go news, updates, tips and tricks
Raids are here! See why they may be the key to legendary Pokémon. Find out how to determine how long it will take you to reach level 40, and see what we think of the Gen 2 Pokémon added to the game. Here are the kinds of Pokémon you get from 10-kilometer eggs, and here's where you can check out what you missed during the Water Festival and Solstice events. Find out more about the upcoming Chicago event and why you'll probably be able to catch Unown while you're there — if you're not busy searching for rare evolutionary items, that is.