Where Los Angeles locals go for the best tacos — and what they order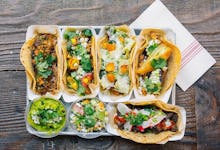 Immigrants have made Los Angeles one of the greatest taco-eating cities outside of Mexico (whose border lies just 130 miles south of LA). "It's almost like, close your eyes, point anywhere, and you will find a decent taco," Esdras Ochoa, the chef at Mexicali Taco & Co. and Salazar, said in an interview. But how do you make sure you're tasting the best? We asked insiders to break down the city's expansive taco scene, from can't-miss regional specialties to the ideal toppings for Tijuana-style tacos.
Stalk the taco pros
Chefs agree that Instagram is a gold mine of taco knowledge. In an interview, Eddie Ruiz of Chicas Tacos said using social media to find places to eat is an integral part of eating well in Los Angeles.
One taco guru to follow is Bill Esparza, a James Beard Award-winning food writer and author of L.A. Mexicano. Thanks to Esparza's extensive knowledge of LA food and the city's taco scene, his Instagram account has amassed more than 20,000 followers. Other notable taco lovers to follow include the blog L.A. Taco and this East LA-focused account.
Ask for the regional specialties
Not all tacos are created equal — there's a reason why most people don't walk into an iconic fish taco spot and leave with pork. "LA is not a place for people who just want a beef taco or carne asada taco," Ruiz said. The reason? Los Angeles is filled with taqueros — people who make or sell tacos — who cook incredible regional delicacies from nearly all of Mexico's states, from Sonora to Yucatan. If you're at Sonoratown, you'll want Chori-Man's Sonoran-style chorizo. If you're at Leo's, don't skip the al pastor.
"It's really about talking to your taquero and finding out what kind of taco place you're going to and making sure that you're actually eating the regional cuisine," Ruiz said. "You need to be ready to explore because that's what's going to allow you to order the exceptional taco over the good taco."
Unlike in Mexico, where diners follow the honor system of paying after they order and eat, customers in Los Angeles usually order and pay up front. Do some research so you know what you're ordering right when you walk in the door.
Dress your taco appropriately
Choose wisely when it comes to taco toppings — more accoutrements aren't always better.
"A real professional, an experienced taco eater, really knows when to dress their taco right and when not to dress it," said Esparza, the author and food writer, in a phone interview. "You need to think about how much cilantro, how much onion does this need? How much salsa do I need to put on here?" Think about whether you're just adding heat when you dress a taco or whether you're diluting the sauce, he advised. For example, a Sinaloan-style taco can call for guacamole, onions and cilantro while one from Tijuana may be best with a mild salsa and a side of chili for more kick. Your Baja-style shrimp taco goes best with cabbage and sour cream.
A good way to bypass confusion is to order your tacos "con todo," which means "with everything that comes the way you guys make it, your style," Esparza said. The more often you leave it to the taquero, the more opportunities you'll have to pick up best practices.
If things end up too spicy, you'll need something to drink. "Mexican Coke is probably the most common drink," Ruiz said. "A Mexican Coke goes with any taco on the planet."
What to order at six taco spots in LA
The order: Chorreadas
The order: Anything; the menu changes regularly
Chef Wes Avila left the world of fine dining to open his Guerrilla Tacos truck in 2012. Avila pulls inspiration from LA and its farmers' markets for taco creations like roasted sweet potato with almond chile, fried corn nuts, scallions and feta.
Ochoa comes here for tacos that "think outside the box."
"He's a really good chef," Ochoa said. "It's very impressive when it comes to his execution, his creativity."
The order: Omega-2
Vegetarian tacos are no new trend. They have been around "since people were making tortillas," said Esparza. "It's a pre-Hispanic style of cooking."
At Tacos Quetzalcoatl, owner Max Enriquez does a take on the meatless taco by adding vegetables like corn, mushrooms and squash. Dubbed the "Omega-2" for its nutritious quality, it's one of the most popular vegetarian tacos in LA.
The order: The Mexicali Taco
LA has seen a wave of northern Mexico-style taco spots, which are known for flour tortillas. "In northern Mexico they're more focused on the protein," Ruiz said. "You're going to find cooking techniques that highlight the protein."
One of Esparza's picks is Mexicali Taco Company. Chef Esdras Ochoa started Mexicali back in 2009 and upgraded the street stand to brick and mortar status when customer and friend Paul Yoo went into business with the taquero in 2011.
"The Mexicali taco is always served plain: meat and tortilla," Ochoa said. For an al pastor or asada taco, follow Ochoa's lead and add salsa chile de árbol, guacamole, chopped cabbage, pickled red onions and some pinto beans. "Don't go crazy on the lime. People tend to do that." Ochoa said. "All the other salsas and onions have plenty of acidity already."
The order: Pork taco
The colorful downtown LA spot sports a massive neon sign, complete with an arrow pointing you to the right direction. If you want to go for the chef's favorite, try the pork taco with chile verde, chicharrón, roasted tomatillo salsa, caramelized onions and cilantro — a classic order compared to the rest of the menu (the fish taco here is a play on a Tijuana caesar salad).
"I'm a traditionalist when it comes to tacos," said Ruiz of his pork taco. "It's the the most tasty, unctuous taco that we have. I would definitely go for that."
The order: Tacos dorado de camarón
Served with a generous portion of sauce, the taco dorado de camarón from Mariscos Jalisco is well worth the mess. If Esparza had to pick just one taco for out-of-towners to try, it'd be this fried beauty.
"It's shrimp that's wrapped in a tortilla that's then deep fried, drowned in a tomato sauce — a watery kind of citrus-y tomato salsa," Esparza said. The drowned taco is finished with cabbage and avocado.
This style of taco is a rarity in America. Settlers from San Juan de Los Lagos, a city in Jalisco, Mexico, brought the taco dorado de camarón to the neighborhood of Boyle Heights in LA. "Around Boyle Heights, there are close to a dozen restaurants, trucks and stands serving mariscos from San Juan de Los Lagos," Esparza said. "You can't find this anywhere except for LA."