Trump's "Made in America" week is getting roasted for exactly the reason you would think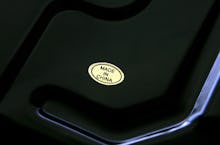 In an effort to help support U.S.-based manufacturers, the Trump administration declared this this week "Made in America" week.
There's just one glaringly obvious problem with that — it's a quality the Trumps themselves have struggled to uphold, relying heavily on foreign manufacturing to make their products.
The Washington Post asked the Trump administration if "Made in America" week would include a commitment by the Trump organization or first daughter Ivanka Trump's company to move their manufacturing base to the United States. The administration responded by saying, "We'll get back to you on that."
But the internet wasted no time in pointing out the hypocrisy. Many Twitter users posted pictures of Trump- and Ivanka-branded items with tags showing they were made in factories outside the U.S.
Some Twitter users, including at least one sitting member of Congress, also used the occasion to hammer Trump on the ongoing Russia scandal as well.
"For Made in America week, let's remember that Nixon used American labor to steal from DNC," Rep. Ted Lieu (D-Calif.) tweeted. "He didn't outsource it to the Russians."
Maybe next time they'll pick a theme that's a little less on-the-nose.