How a Latina Cinderella could help shape 'Once Upon a Time' in season 7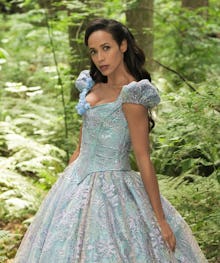 Once Upon a Time is introducing a new Cinderella in season seven. It was revealed at Disney's D23 Expo over the weekend that series newcomer Dania Ramirez will be tackling the role of the famous princess — but with a twist.
"Dania Ramirez will be playing a different version of Cinderella," executive producer Edward Kitsis confirmed Saturday. "If we remember Henry's grandfather is Prince Charming, so we have the grandson of Prince Charming with a new Cinderella."
Ramirez's character is the wife of the grown Henry, portrayed by Andrew J. West, and the mother of their daughter, Lucy, who was introduced in the season six finale. While her identity is a big piece of the puzzle for season seven, it also sparks some new questions for viewers, like: Doesn't Cinderella already exist on Once Upon a Time?
The short answer is yes. Actress Jessy Schram initially played the iconic blue-eyed, blonde-haired princess we know from Disney's Cinderella story. But there are actually multiple takes of the fairy tale, and that's what Kitsis meant when he said Ramirez would portray a "different version of Cinderella." As the author, Henry will continue writing new books in season seven — and according to Kitsis, that's how we'll be introduced to Ramirez's character.
"New books could have different versions of some stories and ways of looking at them that maybe we've seen before, maybe some new characters as well," Kitsis said.
Once Upon a Time has taken creative liberty in the past to put a spin on classic stories and new favorites — take the Frozen storyline, for example. But with the casting of a Latina actress for the role of Cinderella, the ABC drama could actually pull from the pages of other multicultural versions of the story. Take a look at some of the other Cinderella-esque tales that are read around the world:
Adelita is a story from author Tomie dePaolo published in 2002. Set in Mexico, the tale centers on a beautiful and kind young woman named Adelita, who lives with her stepmother and stepsisters. Like Cinderella, Adelita is mistreated by her family, but one day she meets a young man who takes her away.
Domitila is another version of Cinderella set in Mexico. This story is about a young cook who wins over the governor with her delicious homemade meals. Of course, her stepmother and stepsisters try to intervene before she can get her happy ending.
This Spanish-American fairy tale involves a magical hawk. Arcía is a kind-hearted young woman rewarded by the hawk with a gold star. Her stepsisters, who do not share her compassion, attempt to get gold stars from the hawk but their plan backfires.
There are plenty of Cinderella stories from other cultures for Once Upon a Time to pull from. It's not immediately clear which direction they'll take, but they do seem to be going in new direction when season seven premieres in the fall.
Mic has ongoing Once Upon a Time coverage. Please follow our main Once Upon a Time hub here.