'BlazBlue Cross Tag Battle' Trailer: Release date for wild anime crossover fighter coming in 2018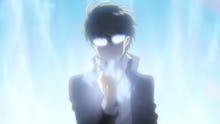 EVO 2017 was in full swing over the weekend, with tons of dramatic fighting game tournament action interwoven with announcements from the heavy-hitters of the fighting game scene. I went to a bar and professional Super Smash Bros. was on one of the TVs. EVO is weird and cool.
One of the most intriguing announcements of the show (depending on who you are) was BlazBlue Cross Tag Battle.
BlazBlue Cross Tag Battle brings Persona 4 to the world of BlazBlue
BlazBlue Cross Tag Battle is the next game in the BlazBlue franchise from Arc System Works, a series of deep and aesthetically distinctive anime fighting games that also feature a lot of guitar shredding. Per Kotaku, the unique hook this time around is the inclusion of crossover characters from other franchises, namely the protagonist from Persona 4.
Arc developed the fighting game Persona 4 Arena, so they have experience with that game's cast of characters. BlazBlue Cross Tag Battle will also include folks from Under Night In-Birth, a visual novel and fighting game series I hadn't heard of until writing this article.
Last but not least, Ruby Rose is in this game. No, not the actress from Orange Is the New Black and John Wick 2. This is a character from the popular anime series RWBY. If you're a fan of any of the above and you're down for complicated and visually busy fighting games, you can look forward to BlazBlue Cross Tag Battle in 2018.
More gaming news and updates
Check out the latest from Mic, like this deep dive into the cultural origins of Gamergate. Also, be sure to read this essay about what it's like to cosplay while black, a roundup of family-friendly games to play with your kids and our interview with Adi Shankar, producer of the animated Castlevania Netflix series.