Tony Ray Cosplay: We talked Power Rangers and other nerd stuff over 'Mario Kart 8 Deluxe'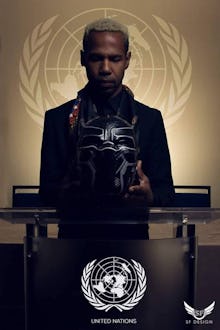 Ahead of his featured episode on PBS's First Person series, Tony Ray dropped by Mic's studio to play some Mario Kart 8 Deluxe and talk about his experience as a cosplayer. Disclaimer: We also talked a lot about DC superheroes, Power Rangers and other geeky stuff.
Ray has cosplayed as tons of popular characters, from Storm to Black Panther's T'Challa to Aqualad (see that costume in the video below). On First Person, he talks about what it's like to cosplay as a queer black man. You can check out his episode right now by heading to PBS.
But if you want to see me and Tony Ray nerding out about super heroes and nerd culture, check out Mic's Mario Kart stream below.
You can also watch Tony Ray on PBS's First Person in the video below.
Mic is an official media partner of the First Person series.
Check out more Nintendo news and coverage
Check out more video game content on Mic, including which Pokémon are actually the best and why black players can never seem to get custom characters that look like them. Learn more about how blind gamers are getting in on the fun and that Injustice 2 appears to be nerfing its female characters. See why we love Twintelle (and why we hate Twintelle) in the upcoming Arms, and don't miss our guide to dodging blue shells in the Mario Kart 8 Deluxe — you can thank us later.