Geese Howard 'Tekken 7' DLC: Baddie from 'Fatal Fury' announced for Bandai Namco's fighting game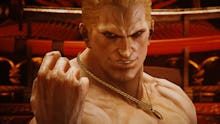 One of the coolest parts of Tekken 7 is that longtime Street Fighter antagonist Akuma is not only on the roster, but is a major part of the story. Bandai Namco expertly applied his 2-D, projectile-heavy moveset to a fundamentally different 3-D fighting game.
Thanks to the wonders of downloadable content, one more villain from a different fighting game series is coming to Tekken 7.
Geese Howard is coming to Tekken 7
Geese Howard is a big bad from Fatal Fury and King of Fighters and has appeared in both franchises for decades. Like Street Fighter, those are both primarily 2-D franchises and Geese has been adapted to fit into a game with side-steps.
Based on the trailer, it looks like they've done an admirable job of maintaining his classic moveset in a very different game. He's also shirtless as hell, which is exactly what you want from Geese Howard.
There isn't a definitive release date or price yet, but Geese is coming to Tekken 7 this winter on PS4, Xbox One and PC.
More Tekken 7 tips, tricks and guides
Ready to take your Tekken 7 game to the next level? Check out our official review, along with a piece arguing that Tekken 7 is a terrible introduction to fighting games. Then read up on the full character roster, tier list rankings, how to unlock every fighter and some juicy DLC rumors.