Total Solar Eclipse 2017: Where to go for incredible views of the Great American Eclipse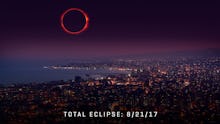 The year 2017 may be an anomaly for more reasons than we can count, but the universe has a gift for all of us this summer.
On Monday, Aug. 21, a rare total solar eclipse will take place in an event NASA dubbed the Eclipse Across America. This special eclipse will be visible in the daytime across North America from Salem, Oregon, to Charleston, South Carolina.
NASA defines an eclipse as what happens when "one heavenly body, such as a moon or planet, moves into the shadow of another heavenly body." A solar eclipse happens about once every 18 months, including annular eclipses and partial solar eclipses. But a total solar eclipse is an unusual phenomenon that hasn't been visible in North America since June 8, 1918.
In order for the total solar eclipse to take place, the sun, moon and Earth must all be in a direct line. At the point of totality — when all three bodies are completely in-line — viewing points will experience up to two minutes and 40 seconds of daytime darkness and a rare view of the moon completely covering the sun.
Experiencing this odd daytime darkness may be a once-in-a-lifetime opportunity for some: The next North American total solar eclipse will occur on April 8, 2024, though it will hit fewer states on its southwest-to-northeast path.
How can I see the total solar eclipse?
The total solar eclipse's path goes across a number of major vacation destinations. While big cities like New York and Chicago will get a glimpse of the partial eclipse, the total eclipse will only be viewable in cities and towns along a diagonal slash from the West Coast through St. Louis and down to South Carolina.
While it's not too late to plan an eclipse getaway, some hotel rooms on the prime path of totality were booked more than a year in advance, and others have dramatically increased rates from $129 to $1,000 per night. Still, there are plenty of budget properties, campgrounds and couches to help your venture out to eclipse territory more affordable.
If you're planning on gazing up at the sun for the full two-to-three hours of eclipse action (it takes about an hour to reach the point of totality and the hour-plus following totality also counts as part of the eclipse), NASA recommends wearing eye protection to prevent strain on your eyes or even, in extreme cases, permanent eye damage or blindness.
While many scheduled events will provide these, you can buy eclipse glasses online (they look like disposable 3-D glasses) if you're doing your own thing. To gaze at the eclipse while it's in totality, you don't need special eyewear; in fact, you'll probably want to remove the shaded glasses for a better view of the dark. Assuming the weather cooperates in whatever viewing spot you settle in, you will be able to see the totality of the eclipse just by looking up at the sky, though binoculars and telescopes will help you get a closer look. Just make sure to put those glasses back on once the darkness starts to recede and the sun becomes visible again.
From the Northwest to the Southeast, here are a few of the best spots to visit if you want to spend a long weekend catching the eclipse. Can't get away? NASA will livestream the eclipse as well.
Where to watch the solar eclipse
Bend, Oregon
Eclipse viewing time: 9:06 a.m. to 11:40 a.m. Pacific (partial solar eclipse)
Bend is pretty much the first location in the United States that will see the eclipse, so if you want primary social media bragging rights, head northwest. The new SpringHill Suites Bend is throwing a party (which is open to non-guests) with a photographer on hand to help you capture the celestial glory. To pregame your viewing the weekend before, take advantage of the Bend Ale Trail, which is organizing tastings of dozens of beers that are locally brewed (and many times grown, since this mountain town and the surrounding area is known for its hops farms).
John Day, Oregon
Eclipse viewing time: 9:06 a.m. to 1 p.m. Pacific
If you want an immersive three-day weekend, head out to this beautiful stretch of Oregon where Pandyfest, a family-friendly music festival highlighting local Portland bands, will dance you into eclipse viewing. Tickets are $245 for the whole weekend, which includes tented camping, heated showers and four catered meals to get you ready for the main event.
Jackson Hole, Wyoming
Eclipse viewing time: 10:16 a.m. to 1 p.m. Mountain
Jackson Hole and Grand Teton National Park will offer excellent viewing experiences for this skyward event. Those looking for a rustic experience can camp out or sleep in a rented RV in Jackson Hole and the surrounding area. (Note that some campgrounds are booked while others will be first come, first served, like Bridger Teton National Forest and Grand Teton National Park.)
For something more upscale, check into the Anvil Hotel, which will kick off eclipse morning with Moon Dust lattes and yoga, followed by lunch and live music through the afternoon as you celebrate the skies. For non-guests, tickets to the event are $375. Rooms start at $1,145 per night (with a four-night minimum) during the eclipse and include two tickets to the special event.
Beaver Creek, Colorado
Eclipse viewing time: 10 a.m. to noon Mountain (partial solar eclipse)
If you love the outdoors, planning a summer trip to Colorado should be the obvious choice for any last-minute eclipse travel plans.
On Aug. 21, the Walking Mountains Science Center will host a free family-friendly event, which will include crafts like making sundials and a guided viewing experience. To stay on-site, check into The Westin Riverfront. During the eclipse, the hotel will offer a package that starts at $179 per night (with a two-night minimum) and includes solar eclipse viewing glasses, access to the Walking Mountains event and nightly s'mores at the property's fire pits.
St. Louis, Missouri
Eclipse viewing time: 11:50 a.m. to 2:44 p.m. Central (partial solar eclipse)
St. Louis is pretty much in the center of the total solar eclipse's path, and the next solar eclipse isn't expected in St. Louis until 2505, so consider this a true once-in-a-lifetime opportunity.
Check in for a night of luxury at the Four Seasons Hotel St. Louis, which is offering a special one-night stay for $550 including two pairs of solar viewing glasses, a gourmet picnic basket for two and overnight valet parking. If you're not checking into the hotel, (St. Louis has plenty of under-$100 rooms still available in budget chain hotels and motels, as well as Airbnb digs with two-digit price tags), you can also purchase a picnic lunch on the property for $85.
Nashville, Tennessee
Eclipse viewing time: 11:58 a.m. to 2:54 p.m. Central
Not only is Music City a fantastic place to visit for a three-day weekend, but Nashville is on the point of totality, making the entire city a perfect viewing point for the eclipse. State parks will be open during the eclipse, and there will be events at monuments, museums and beyond, like the Grand Ole Opry's free daytime party and a viewing party at the Adventure Science Center. Nashville has even created its own Spotify playlist to pump you up for eclipse viewing.
Greenwood, South Carolina
Eclipse viewing time: 1:10 p.m. to 4:04 p.m. Eastern
South Carolina is a prime state for the eclipse's center line of totality, and if you ever needed an excuse to visit some of the state's smaller towns, this is probably it. Greenwood, not to be confused with nearby Greenville, is expecting over two minutes of remarkable daytime darkness.
In town, Lake Greenwood State Park has sloping lawns from which you can view the entire event — nocturnal animals are expected to come out earlier than usual and birds will stop singing for the unusual spot of darkness. Admission to the park is $2.
If you need somewhere to stay, check into The Inn on the Square (about $150 per night), which still has availability on Monday night; look into hotel chains for Sunday night availability. The town's Good Times Brewery will serve craft brews for the special event, and the the town's visitors' bureau will be handing out souvenir sunglasses.
Charleston, South Carolina
Eclipse viewing time: 1:16 p.m. to 4:09 p.m. Eastern
If small-town South Carolina won't cut it for you, head to Charleston, where you can make a weekend out of seeing historic architecture, eating at James Beard Award-winning restaurants, and, of course, seeing the eclipse.
Several special eclipse events will take place in the beach town. If you're feeling creative, head to the Lenhardt Garden at the Gibbes Museum of Art, where two-for-one museum admission (children under 17 are free) includes entrance to an eclipse art installation and a viewing party with a special viewfinder. The Charleston Museum will also host a viewing party with museum admission ($12 for adults). For a beachier vibe, check out the party at the Beach Club at Charleston Harbor Resort and Marina ($10 adult tickets), which will have concessions, themed drinks and interactive activities during the eclipse.
On the high seas of the Atlantic Ocean
It's not too late to book an end-of-summer getaway to the Caribbean for one of the best possible sightings of the total solar eclipse.
Royal Caribbean will launch a special seven-night Total Eclipse Cruise (rates start at $823 per person) on its ship Oasis of the Seas from Port Canaveral in Orlando, Florida, on Aug. 20. Stops along the route include Phillipsburg, St. Maarten; Charlotte Amalie, St. Thomas; and Nassau, Bahamas. On the day of the eclipse, the Oasis will sail to an optimal spot in the ocean to see the eclipse's path of totality, and DNCE will take the stage for the event.
Though several other Royal Caribbean ships sailing this same week will offer views of the partial eclipse, the Total Eclipse Cruise is the only vessel in which you can view it in totality while bonding with other devoted eclipse watchers. Plus, there's high-speed internet onboard, so even when you're at sea, you can still share your pics as soon as you've picked the perfect filter.
Correction: July 19, 2017
Correction: July 20, 2017