Amazon might take over another aspect of your life — messaging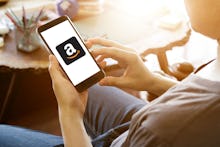 There's no shortage of ways to communicate with people digitally. Maybe you use WhatsApp, iMessage, Facebook Messenger, GroupMe, Skype, Snapchat or even Signal. One more messaging platform may be on the horizon.
According to AFTVnews, online retail giant Amazon is working on a standalone messaging app that will focus on group communication. Called Anytime, the "all-in-one feature-rich service" will reportedly offer all the specs you'd expect from a messaging service: audio support, video support, location sharing, fun photo filters and end-to-end encryption. It will run on smartphones, tablets, PCs and smart watches.
The platform will not rely on phone numbers. Instead, it'll have users create a username or a handle, like on Twitter or Instagram. To add someone to a group message, you just mention them with the "@" symbol. AFTVnews reported this "could mean the app hooks into existing social networks and other messaging services."
Other rumored group features include simultaneous music listening, playing games, food ordering support and bill split. There will also be a function that supports business chat.
Don't get too excited, though. So far, Amazon has not officially confirmed the messaging app's rumored upcoming debut. Further, the typo-laden screenshots obtained by AFTVnews raise questions about authenticity.
But the idea of Amazon entering the consumer messaging market is not far-fetched. Consider this: Amazon's Echo products and Alexa app allow users to chat with one another. Amazon also launched a communications service called Chime in February with messaging and videoconferencing support.