Nintendo Switch GameStop Stock: 'Splatoon 2' release will bring new supply — and not just in bundles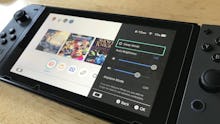 Nintendo Switch stock continues to elude some buyers hoping to procure the covetable game console, but GameStop is coming to the rescue. The game store is replenishing their Nintendo shelves full of Switch units just in time for Splatoon 2 coming soon. If you think GameStop is only offering units of the Switch trapped inside costly bundles, think again.
Nintendo Switch stock: GameStop offers both bundle and individual-unit options
GameStop is known for their notorious bundle-only options and you can expect more of the same this time. Well, sort of.
The gaming retailer will have Nintendo Switch units as part of a package deal with other games and accessories. Or, if all you want is Nintendo's Switch console, GameStop will sell you that on its own, just like other stores.
If you want to buy the Switch on its own, you're looking at paying just over $300. But if you're interested in buying more than just the console, here's what GameStop is offering.
Nintendo Switch with Gray Joy-Con, $459.99
• Splatoon 2
• Mario Kart 8 Deluxe
• Switch racing wheel two-pack
• Switch Splatoon 2 game traveler case
Nintendo Switch with Gray Joy-Con, $479.99
• Splatoon 2
• Mario Kart 8 Deluxe
• Snipperclips (Digital)
• SanDisk Ultra 64GB micro-SD with adapter
Nintendo Switch with Neon Joy-Con, $499.99
• Splatoon 2
• Legend of Zelda Breath Wild
• Legend of Zelda: Breath of the Wild Expansion Pass
• Mario Kart 8 Deluxe
GameStop's bundles don't offer any extraordinary discounts compared to buying the games, controller accessories and expansion passes on their own, but the retailer is offering 20% off many accessories between July 16 and July 29.
If you plan on buying a Switch from GameStop, you'll want to call your nearest store in advance to make sure they have units. And also be grateful that you're not trying to get a Switch in Japan.
Check out more Nintendo Switch news and coverage
Looking for more Nintendo Switch news? Check out how blind gamers are using the Nintendo Switch and why you can't get your Mii to look quite like you. Nintendo's left Joy-Con issue turns out to be a hardware problem — here's how to solve it. Find out how to buy a console amidst the recent restock. Learn why the Switch cartridges taste so bad. Check out our comparison photos sizing up the Switch to the Wii U GamePad (part one and part two), or find out how to make use of ethernet without the dock and the best way to get alerts when new stock arrives.