Dragon Ball FighterZ' Trunks: Gameplay trailer reveals new roster addition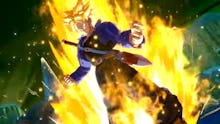 Announced in June at E3 2017, Dragon Ball FighterZ is a hotly anticipated video game. People are going wild for Arc System Works' beautiful, frantic 2-D fighter based on Akira Toriyama's classic manga and anime. It makes you wonder why other fighting game developers even bother when something so perfect is breaking into existence.
Alright, that's an exaggeration, but the game looks pretty cool. A new character has debuted for the first time, so you should keep reading and check it out.
Dragon Ball FighterZ: Future Trunks brings his blade and funny arm movements to the upcoming fighting game
Trunks is a pretty unique DBZ combatant because, unlike just about everyone else, he regularly uses a weapon. It isn't just punches and ki blasts. The trailer shows off some sword combos, but it's not clear based on this 45 seconds of footage if or how that feels different from the way other characters play.
As you'd expect, a couple of his iconic super moves from the series are fully present and accounted for here. Burning Attack, which is the one where he does a bunch of silly hand motions before killing Frieza, is in the game, as is the Heat Dome attack he uses to kill Cell in the alternate future he comes from. If that sounds like a whole bunch of nonsense, this game probably isn't for you.
Dragon Ball FighterZ comes to PS4, Xbox One and PC in early 2018.
More gaming news and updates
Check out the latest from Mic, like this deep dive into the cultural origins of Gamergate. Also, be sure to read this essay about what it's like to cosplay while black, a roundup of family-friendly games to play with your kids and our interview with Adi Shankar, producer of the animated Castlevania Netflix series.