How to make GIFs in Facebook's new GIF maker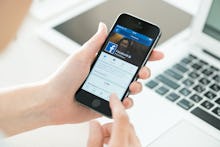 Facebook is experimenting with a built-in GIF creator on the platform. With a quick app update, select iOS users can spot the new GIF mode within Facebook's camera.
The GIF function is not available to all users, suggesting it is currently being tested and will roll out to all users eventually. The feature was first spotted by the Next Web.
Those with access to the feature will notice a GIF option at the top of the screen. Here, you can record a short GIF using the effects and frames available within Facebook's camera. The GIF can then be added to your Facebook story, shared to your profile or saved to your device. The Verge reported the GIFs save as videos, thereby making them sort of useless outside of Facebook.
Facebook began experimenting with GIF comments back in March after debuting a GIF button to a small group of users. Then, just in time to commemorate the 30th anniversary of the GIF, Facebook rolled out a GIF button that allows social media users to leave comments with GIFs. But Facebook's Messenger app has offered GIF support since 2015, with 13 billion GIFs shared on the platform last year.
When can you expect the option to make GIFs within your Facebook camera? A Facebook representative confirmed with TechCrunch that the feature is currently available to a "very small number of iOS users," with more information arriving in the weeks to come.