Every stunning look Michelle Obama's rocked in her six months since leaving the White House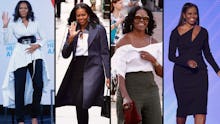 It's been six months since Michelle Obama exited the White House, taking her signature style moves, like wearing young American designers, designers of color and using fashion as a diplomatic tool, with her. The woman in her place now is different in many ways, but of course with Obama out of the White House, that doesn't mean she's vanished from the public spotlight.
She's still around, offering us encouraging words and inspiring speeches every few weeks, boosting our spirits and reminding us of a time when life felt, well, calmer. She's looking damn good while doing it too. Throughout these past months as a former first lady, Obama has turned her style from that of a first lady to that of a celebrity, taking style risks and generally having more fearless fun with her fashion.
To celebrate that, Mic has rounded up every single look we've seen from Obama these past few months. Feel free to reminisce:
March 10: A glamour queen reemerges in New York City
By March 10, just a month and a half into the Trump presidency, America had already been through some shit: the Women's Marches across the world, the travel ban, the realization that Steve Bannon is a man who exists and has the president's ear in the White House.
We needed something hopeful to really hang onto. We needed to see something good. So imagine our emotions when we saw Obama and her husband step out for the first time since Inauguration Day, looking like this:
Like a hip, stylish and modern woman, just out in New York City, having a nice lunch with her husband. She looked happy. She looked freer. She looked elegant and cool.
In a long blue jacket, a neat button-down, slim black pants and black stilettos, this was one of our first glances at what Obama's more casual style really is.
April 14: A very cute vacation outfit for hanging out on a yacht
Squint and you'll see her, standing casually with one arm propping her up on the yacht's railing. Who's inside? Well, there's Oprah Winfrey, Tom Hanks, and some other very important people. Oh, and we guess her husband is there too, squint and you'll see him there too.
He's taking a picture of her on an iPad, like a good husband should. As far as what she's wearing here, we really don't know. It's a dark, frilly top and what looks like light-colored pants, maybe white.
It doesn't really matter, because what actually matters is that Obama looks super pleased with herself.
April 27: A dress with a message at an Orlando conference
Now for her first official speaking appearance as a former first lady, Obama arrived at an architecture conference in Orlando, Florida, wearing a black, white and beige graphic dress by the New York-based label Lafayette 148. (It's on sale for just $219.20 right now.)
It was sleeveless, which is one of her signatures, and designed by a lesser-known brand that works to promote education with a number of charities in New York and the world.
Given that Obama had a history of wearing brands that packed a message, this dress was a perfect reminder of what kind of fashion icon she really is.
May 3: A black-and-white polka dot dress for the Obama presidential center
Days later, she reappeared in Chicago, for talks regarding her husband's presidential center, wearing a black and white graphic dress, with a black waist band. The designer of this dress hasn't been ID'd yet (if you have any ideas, let us know), but aligns with Obama's legacy of repeating certain dresses, with this particular ensemble making its first appearance in October 2016.
May 5: Showing Princeton pride at College Signing Day
Here is Michelle Obama in an outfit that's the opposite of what you'd expect to see a traditional first lady in. She's wearing grey skinny jeans, converse sneakers, a casual grey sweater and a T-shirt showing off her alma mater: Princeton.
But because Obama was never a "traditional" first lady, this is just simply her, dressed down for an event where it makes sense. She was there to celebrate college signing day, after all, so an evening gown wouldn't be appropriate.
May 7: A one-shouldered blue grecian dress for Obama's Profile in Courage award
Days later though, it would. To the presentation of the John F. Kennedy Profile in Courage Award, which was going to Obama's husband, she showed up in a royal blue off-the-shoulder, grecian dress, with jewel drop earrings.
This is a look worthy of a State Dinner if we've ever seen one. Though unlike all those occasions, this dress is also without a formal designer ID. What a shame.
May 12: A chic black and white ensemble for a Healthier America summit
This is a cute one, isn't it? To the Healthier Future Summit in D.C. in May, Obama arrived in a neat take on a pinstripe shirt by the British label Palmer Harding, slim black pants and a belt by Alexander McQueen.
May 20 or 21: Pink top in Montalcino, Italy
We don't know exactly when this beautiful ensemble graced this earth, but we do know that it rocked. During one weekend back in May, Obama toured Tuscany in a pair of white ripped jeans, white sandals and a pink, off-the-shoulder top by Teija, which goes for nearly $400.
This is what we meant when we said that Obama's style post-White House is at its most liberated. Think she'd be able to get away with ripped jeans as first lady? We think not.
May 22: Another off-the-shoulder look for Siena, Italy
OK so listen. Obama single-handedly redefined what we all should be wearing on vacation this summer with this one outfit. The colors — white and army green — and the style — that chic and sexy off-the-shoulder look — are just about everything.
The shirt itself is from Club Monaco (it's now on sale for $99), which makes it readily accessible to many Americans, while the wide-leg linen pants were from BCBG.
June 27: Out and about in Indonesia
We have no idea what the front of this outfit looks like, but are we including it? Hell yes. Obama looks great here, with a chartreuse pinstripe skirt, wrapped with a golden scarf.
June 28: Casual in Indonesia with the fam
Again, we have no idea what Obama is really wearing in this pic, we just know that she looks better on vacation than we ever will. The ensemble looks to be made up of black leggings, sneakers, a simple white tank and a long, light open jacket that ties in the front.
She's an innovator.
July 12: A black Cushnie et Ochs number for the 2017 ESPYS
Ah, so now we're back to the Obama that most of us know so well. This is glamour. This is fierceness. This is sophistication. This is style.
More specifically, this is Michelle Obama at the 2017 ESPYs in Los Angeles, onstage to hand out the Arthur Ashe Courage Award. She's wearing the brand Cushnie et Ochs and as with most of Obama's formal appearances, the dress is something to take note of. Cushnie et Ochs is an American brand, helmed by two young women of color — Carly Cushnie and Michelle Ochs.
Although Obama has left the White House, she hasn't left her many style missions behind. She's still wearing American brands, lesser-known brands and brands with people of color in charge. She's still showing us how to wear fashion right, and we expect her to only continue to do that for the rest of her life.