Ethics watchdog group will release Mar-a-Lago visitors log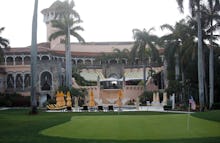 This fall, the ethics watchdog group Citizens for Responsibility and Ethics in Washington will release the log of visitors to President Donald Trump's Florida home, Mar-a-Lago. The Department of Homeland Security has been ordered to release the Mar-a-Lago visitors logs to CREW as part of the organization's ongoing lawsuit against the Trump administration.
CREW is also suing to obtain White House visitors logs, which were released voluntarily during the Obama administration.
Earlier this year, acronym enthusiasts in the Senate introduced the Make Access Records Available to Lead American Government Openness Act, or MAR-A-LAGO Act, to force the administration to turn over the records.
"The public deserves to know who is coming to meet with the president and his staff," CREW's executive director, Noah Bookbinder, said in a statement. "We are glad that as a result of this case, this information will become public for meetings at his his personal residences — but it needs to be public for meetings at the White House as well."