Fans of 'Doctor Who' celebrate as BBC announces that the 13th doctor will be a woman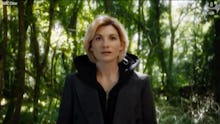 BBC announced on Sunday that the 13th doctor in its sci-fi series Doctor Who will be Jodie Whittaker. She will be the first woman to play the role in the show's 54-year history.
The doctor's identity was revealed in a trailer released at the end of the Wimbledon men's singles final. Whittaker, who found fame on BBC's Broadchurch, says she is hopeful about the role.
"This is a really exciting time, and Doctor Who represents everything that's exciting about change," she said. "The fans have lived through so many changes, and this is only a new, different one, not a fearful one."
Since the announcement, Doctor Who fans have been lauding the moment as a win for young girl nerds. Some tweeted videos of their daughters reacting to the news.
And others, like this Twitter user, have been celebrating the fact that young girls will now grow up with representation in some of the major roles in sci-fi and fantasy stories.
Doctor Who is the longest running sci-fi show in history, and focuses on a time-traveling alien or "Time Lord" named the Doctor. In the show, the character travels through time solving mysteries and generally acts as a galactic hero. They are also pretty much immortal. When fatally wounded, they go through what's called a regeneration. In this moment, their physical appearance and personality are completely altered, ushering in both a new doctor and a new story arc.
For Doctor Who, making the doctor female is both timely and necessary, especially since the now outgoing head writer Steven Moffat has been accused of blatant misogyny since taking the lead in 2008. With a new head writer and executive producer, Chris Chibnall, the show might be catching up with modern standards of female representation.
"I always knew I wanted the 13th doctor to be a woman and we're thrilled to have secured our number one choice," Chibnall said.
While he and many other viewers are excited about the change, there are some who aren't exactly happy about it. Many expressed their displeasure on Twitter.
But others chose to point out how, following Whovian lore, the doctor is basically genderless. The Master, another Time Lord who was canonically male, is a woman now called the Mistress.
Either way, Whittaker continues to be optimistic about her role and where she can take the show.
"I'm beyond excited to begin this epic journey — with Chris and with every Whovian on this planet. It's more than an honour to play the Doctor," she told the Guardian. "It means remembering everyone I used to be, while stepping forward to embrace everything the doctor stands for: hope. I can't wait."