'Bachelorette' star Dean opens up about father's Sikh religion ahead of hometown dates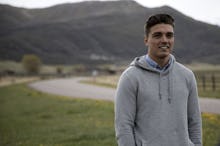 Bachelorette contestant Dean Unglert went on Instagram over the weekend to write a plea for fans ahead of his hometown date. The 26-year-old startup recruiter isn't just introducing his father to Rachel Lindsay during Monday night's episode — he's introducing him to the reality show's 5.5 million viewers.
Before securing his hometown date, Dean warned Rachel he didn't have a typical family dynamic. After opening up about his late mother, Dean explained this father is "eccentric." Dean's dad, Harold, converted to Sikh and now goes by the name Paramroop Singh Khalsa. But according to Dean, that's not the eccentricity he was talking about.
"When I said my father was eccentric, I was not referring to his Sikh faith or the turban he wears on his head," he clarified in the Instagram caption. "I'm not asking you to spare his feelings (or mine) but instead to be cognizant and accepting of the millions of people that belong to the Sikh community."
Clips from the upcoming episode don't dive too far into Paramroop's religion, but he can be seen wearing a turban and sitting on floor cushions. In one video, Dean admits to Rachel that he hasn't seen his father in two years. The episode preview shows the two men arguing about events that transpired after the death of Dean's mother. Twitter has been counting down to watch Dean's dad grace the screen.
"Although he and I are not close, I respect my father's decision to follow his heart and pursue the life he has chosen," Dean continued. "Let us not criticize him for his appearance or his beliefs, because by doing so we are disparaging an entire faith and culture that includes millions of people. And I know we are all better than that."
Dean's dad will make his appearance on The Bachelorette at 8 p.m. Eastern time on Monday night.
Mic has ongoing Bachelorette coverage. Please follow our main Bachelorette hub here.