Democratic senator calls for removal of Education Dept. civil rights head for sexual assault comment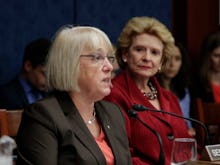 The leading Democrat on the Senate's education committee is urging U.S. Education Secretary Betsy DeVos to fire the head of the department's civil rights office, due to her controversial comments regarding sexual assault.
In a press release issued on Monday, Sen. Patty Murray (D-Wash.) said Candice Jackson, acting assistant secretary for civil rights, "crossed a serious line" when she told the New York Times on Wednesday that 90% of college sexual assault claims "fall into the category of 'we were both drunk,' 'we broke up, and six months later I found myself under a Title IX investigation because she just decided that our last sleeping together was not quite right.'"
Murray dismissed Jackson's comments as "callous, insensitive and egregious" and said they should bar her from serving in a role where she has clout over "students' right to be safe at school."
In an apology for her statement on Wednesday, Jackson said she was a rape survivor herself and "would never seek to diminish anyone's experience," according to the Washington Post.
However, the apology was not enough for Murray, who publicly scrutinized the actions of the Education Department's civil rights office in a letter to DeVos signed by 34 other senators in late June. The memo specifically pointed to the office's lack of action surrounding protections for transgender students.
In the press release, Murray said Jackson's recent sexual assault comment was "the final straw."
"Since the day she got on the job, Ms. Jackson has worked to narrow the role of the office, back away from the progress made to protect transgender students, take away the tools and resources the Office for Civil Rights has to protect students, and move it away from its mission to 'ensure equal access to education and to promote educational excellence throughout the nation through vigorous enforcement of civil rights,'" Murray said.
Even before she started in her current role, Jackson faced criticism for earlier comments she made regarding sexual assault and women's rights. In a Facebook post in October 2016, Jackson called the women accusing Donald Trump of sexual assault "fake victims," and she said as a student at Stanford University that feminists "are moving backwards, not forwards," Teen Vogue reported.
Additionally, DeVos has recently come under for meeting with three "men's rights" groups while working to reshape the education department's management of sexual assault cases on college campuses, NPR reported.