It's 2017 and companies are still describing products as "n*gger-brown"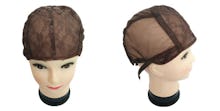 On Monday, the internet woke up to a scandal not exactly fitting the term "politically correct." A wig cap sold on Walmart's website with the color description "nigger-brown" was found — and people were outraged.
The cap was sold by an undisclosed third-party vendor and has since been removed from Walmart's site. But the backlash was already in motion, and people on social media had more than a few words about the incident:
Meanwhile, gossip site The Shade Room and musician Questlove took to Instagram to show their disapproval of the scandal.
Jagazi Naturals, the name of the company on the product listing, is black-owned and based in the U.K. Jagazi said on its website that it was not the supplier for these specific caps and is not connected to the controversy. A flag at the top of their site reads:
"The real JAGAZI is a 100% black company for black people. People have often used our brand name to try and sell their products. Please be aware. Very sorry for all the distress this has caused. We are feeling the pain here as well."
Walmart has not disclosed the name of the third-party company who labeled the product "nigger-brown," but ensures that they have policies in place to protect against such issues.
"We are very sorry and appalled that this third-party seller listed their item with this description on our online marketplace," a Walmart spokesperson said in a statement to Mic. "It is a clear violation of our policy, and has been removed, and we are investigating the seller to determine how this could have happened."
The spokesperson also stated that the description was not in line with Walmart's policy. The company, according to its website, prohibits third-party retailers from selling products they consider "offensive," displaying "vulgar language" and/or "stereotyping based on race, ethnicity, gender, sexual orientation, religion, or nationality; hatred; intolerance; natural or man-made disaster(s); tragedy; violence."
While Walmart is under fire for the recent incident, it is not the first company to face this type of backlash.
In 2012, a knock-off Abercrombie & Fitch website was selling a pair of men's shorts that were labeled "nigger-brown." Gawker reported that the China-based site had (badly) translated the name of the color. In 2007, a 7-year-old girl noticed the sofa her family bought from Canada's Vanaik Furniture and Mattress came with the same "nigger-brown" descriptor. The couch's manufacturer was Chinese and attributed its error to a software program that translated the Chinese characters from "dark brown" to "nigger brown."
On Monday, the online retailer Jolly Chic listed a goldstone necklace as "nigger-brown," but has since updated the description. In fact, a Google search query into "Jolly Chic nigger brown" turns up several listings with that descriptor, but those URLs take you to "page not found" links.
The word "nigger" is, indeed, best left in the past.