The 10 best things to buy right now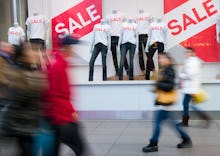 Feeling the end-of-summer blues? While you may have fewer beach days and backyard barbecues to look forward to this fall, there's a silver lining to the tail end of summer: amazing sales.
Labor Day sales are legendary for everything from summer clothes to back-to-school supplies, but that's not the only time you can get great deals. The very same items that sold for top dollar in May can go on sale for as much as 75% off in September. That includes everything from lawn furniture to laptop computers you can use all year long.
"Labor Day weekend will be an especially good time to shop for those items, and many of the sales will trickle into September," Lindsay Sakraida, director of content marketing with DealNews, a shopping comparison website, told Mic via email.
There are a few other special deal days to look out for this time of year as well. Connecticut, Louisiana and Maryland all have tax holidays coming up in the next few weeks, for example. Then there are the fun food holidays like National Peach Pie Day (on August 24) and National Coffee Day (on September 29), when you can snag freebies and discounts too.
Here's a look at some of the best deals you can get between now and the end of September. Because these are clearance items, prices are subject to change, so act quickly if you want the specific deals shown here.
1. Summer clothes and swimsuits
Swimsuits are a classic summer item, which means you can enjoy big bargains as colder weather approaches. "Any swimwear that's left in August tends to see unbelievable price cuts since stores know it will be hard to sell stock once September rolls around," Sakraida said. Stores often feature discounts of as much as 75% off with coupons you can stack on top of sale prices to cut costs another 30%.
Awesome swimwear deals going on now: Bon-Ton is offering up to 75% off women's swimwear, with $33 bottoms marked down to just $6.49 and tops as low as $6.99. The code SLICKDEALS will get you free shipping.
Macy's is also offering big swimwear markdowns for women and men, including Calvin Klein trunks for half off, or check out Land's End swimwear sale for men with swim trunks marked down to only $14.97.
For those with kids, Hanna Andersson is offering a percentage of all items including clearance swimsuits, with free shipping for orders over $75. With the coupon code RAINBOW15, you can get an additional 15% off prices on already-reduced children's swimwear if you're a new customer.
2. Outdoor products: Lawn mower and patio furniture
If you're looking to spruce up your backyard or patio, you have lots of options in August and September. "Department stores and home goods stores will offer the best discounts on patio sets," Sakraida told Mic. "We especially recommend Home Depot and Lowe's as well as Sears and Walmart. You could save up to 70% off, which should translate into several hundreds of dollars off, depending on the original price."
Walmart currently has patio chaise lounges marked down dramatically, with $271.26 in savings on this adjustable pool chaise. If you'd prefer to dine rather than lounge, you could save $300 on this dining set, which is marked down to just $499 from its original $799 price. Home Depot also has great bargains, including a 2-pack of outdoor dining chairs on sale for $199.75 down from $799.
3. Last-minute back-to-school supplies
If you're shopping for back-to-school deals, you'll likely spend more if you start early: 60% of shoppers hit the stores before August and spend $532 on average, while the 40% who wait until August or later spend an average of $458 dollars, according to a Deloitte survey.
Parents who shop late can score deals because stores usually deeply discount remaining back-to-school items around Labor Day to empty the aisles for upcoming holiday merchandise. Current top deals for back-to-school products include composition books for $0.75 at Office Depot and and one-subject notebooks for just $0.17 at Walmart, according to Passion for Savings.
Many deals are in-store only, but Lands' End is offering online deals on backpacks and lunch boxes, and you can score an extra 50% off now by using the coupon code BACKPACK50 and entering the pin 7476 at checkout.
4. Air conditioners
Although the weather is starting to get cooler, shopping for home cooling products could land you awesome deals at this time of year since stores are trying to clear out bulky warehouse items.
"When cool weather comes around, most people just aren't into air-conditioner purchasing, so the demand drops, as does the price," Diane Ritchey, editor of Home Appliance magazine told Bankrate.
JCPenney currently has a deal going right now for a LG window air conditioner, and promo code FRIDGE7 will net you an extra 10% off.
5. Laptops
Looking for a laptop deal? Mark your calendar. "Last year, 75% of the Editors' Choice laptop deals we saw were in September," Sakraida said. "Make your purchase early in the month to take advantage of lingering back-to-school sales."
Some great places to find deals on 15-inch laptops with current-generation Intel Skylake processors include Cowboom, Dell Home, Newegg and Lenovo. For those shopping for an Apple laptop, Sakraida recommends looking at Best Buy, eBay and Micro Center rather than the Apple Store, which is only offering a free pair of headphones to qualifying students who buy a MacBook or iPad Pro.
While waiting until early September will help you land bargains, there are a few deals to take advantage of now. Newegg has refurbished 11.6-inch MacBook Airs on sale for $369, and you can get an additional $25 off if you use MasterPass checkout and enter the code MPBTS17.
You could land a refurbished Acer Aspire for even less at just $278.99 after using that same coupon code. If you'd prefer a brand-new model, head to Best Buy for a $100 sale on a 13-inch Apple MacBook Pro.
6. Plane tickets
While it may seem early to be thinking about holiday travel, it's actually the perfect time. "The end of September and beginning of October are when you should start watching and shopping for Thanksgiving and Christmas flights," Dara Continenza, a mobile project manager for the travel app Hopper, said in an email interview. When Hopper analyzed three years of data, they found the best prices could be found 80 days before Christmas. Plus, booking your Thanksgiving flight six weeks ahead could net you average domestic roundtrip airfares of $287, compared with $341 if you book at the last minute.
Hopper's analysis of flight data shows roundtrip domestic flights are expected to decline 2.1% in September, coming down to an average price of $217 compared with $222 in August. Prices are expected to bottom out in October at an average price for a domestic trip of $216, as consumer demand for travel declines when kids are in school. Plus, this time of year falls between prime travel seasons for popular destinations — in the off-season, you can score bargains on top national and international destinations such as Florida, the Caribbean, Columbia and Costa Rica.
"For August flights, we found pretty inexpensive flights to Ft. Myers, Tampa and Palm Beach with savings up to 24% over normal prices," Continenza said.
Competition from low-cost carriers is also helping to lower prices. You could score September flights for weekend trips to Oslo, Stockholm, Amsterdam, Paris and London for prices in the low $300s if you're flexible on dates, Continenza added.
7. Previous-generation (or used) iPhones
Want a new phone to go with your new laptop? Early September is a good time to buy because Apple is expected to announce a new model early in the month, causing prices to plummet on old models as well as prompting promotions from phone sellers.
The new iPhone is expected to cost anywhere from $850 to $1,200, CNET reported, but you can get used iPhones for much less, with a used 32GB gold version of the iPhone 7 selling for around $499, according to eBay's trending prices. Some deals on current models are available right now, with Target offering a free $100 gift card for iPhone 7 buyers who activate new service.
These prices should come down even more once the iPhone 8 drops. If you're willing to be a few versions behind, you can get used iPhone 6 16GB phones starting around $200 on eBay.
8. Printers
Printers often go on sale in September as part of back-to-school deals, according to Consumer Reports. A simple black-and-white laser printer should be available for under $100, while you can also score deep discounts on inkjet printers if you're looking for a rock-bottom bargain.
Current printer deals include a Dell mono laser printer from Staples on sale for $99.99 (marked down from $219.99) or a Canon all-in-one Inkjet printer marked down to $64.99 from $99.99 at Fry's.
Be sure to look at the long-term cost of ownership, including the price of ink and toner for any model you're considering. Ink deals can be hard to find, but Consumer Reports has suggestions on how to save on ink, including buying after-market ink cartridges.
9. Grills
Cookout season isn't over yet, and you can snag some awesome prices on all your outdoor cooking gear during the month of September.
"September offers the best deals on grills and BBQ-related utensils," Sakraida said. "Grills will be marked to clearance prices in September as stores try to get rid of any remaining stock. You could snag a basic model for as low as $75 in September, and come 2018 you'll be thankful that you did."
Walmart is already offering in-store savings on grills, according to Slickdeals, with some models marked down as low as $139. DealNews indicates Sears also has some grills on sale, including a Kenmore four-burner gas grill for $199.99 (marked down from $279.99).
10. Trees and plants
Fall deals on plants are typically plentiful as nurseries and garden centers look to get rid of their stock before winter. Plant perennials, trees and shrubs early in September before it gets too cold, or buy plants that can overwinter in your home and be ready for spring. Sedum, peonies and Coneflowers are all hardy perennials that should easily last through the winter months outdoors, even in chilly areas, so you can be greeted with a pretty spring garden.
To get the best prices, hit up local garden centers and fall plant sales and even check out Lowe's and Home Depot, which also tend to offer customers deep discounts on their garden items.
Sign up for the Payoff — your weekly crash course on how to live your best financial life.