Even where marijuana is decriminalized, police continue to target minorities for arrests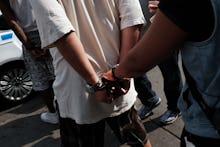 When New York City decriminalized marijuana possession, it was a landmark move that could have drastically reduced the over-arrest of minorities in the city. Arrests have gone down to about half of what they used to be. But minorities are still the laser-focused targets of the arrests that still occur — about 20,000 a year.
Even though white people are more likely to be marijuana smokers, blacks and Latinos still make up 86% of marijuana arrests between 2014 and 2016, according to a new report from the Drug Policy Alliance. And all this is after decriminalization laws that were meant to reduce arrests for possession.
It's not just New York City. In Washington D.C., where possession of small amounts of marijuana is legal, there were 128 arrests for smoking weed in public in 2015. Of those arrested, 108 of them were black.
The report's authors write that the continued arrests "are the result of 'willful indifference' by top city and police officials to the unwarranted and unconstitutional racial discrimination built into these routine police enforcement patters and policies."
Then again, changing police behavior systemically isn't the only solution. In lieu of reform, the New York Times editorial board had a suggestion for how to achieve justice: Prosecutors should just decline to follow through on these cases after the arrest.
"The city needs to do more to minimize arrests," the editorial board wrote. "District attorneys can take the lead by refusing to prosecute most, if not all, of these cases."