'Splatoon 2' Splatfest memes lead to the best Miiverse-style art we've seen in a while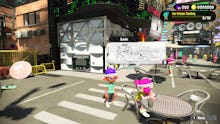 Splatoon 2's release date is quickly approaching and Nintendo's second demo weekend is complete. Unlike the global testfire we got back in March, the latest opportunity to play Splatoon free on Switch came in the form of a Splatfest in which two teams (Team Cake and Team Ice Cream) battled it out for dessert dominance.
While Team Ice Cream was the official winner of Splatoon 2's Splatfest, the even bigger winner were fans of the game who got to play online, try out new weapon abilities and, most importantly, view all the great artwork Switch players came up with.
What artwork? Don't worry, we took plenty of screenshots.
Splatoon 2 Splatfest: Miiverse-style art reminds us of the good ol' days
The main event was a series Turf War-style showdowns, but the art created between matches was top notch. Much of it represented the world of Splatoon or referenced other popular video games. Like this one:
Okay, Inkling Girl. Basic enough.
Okay, that's slightly more complicated, but nothing crazy.
Team Ice Cream's own Marina. Not bad. Not bad at all.
Okay, how is this even possible? Just look at those dots.
This one is just suave.
The internet had even more Splatoon 2 Splatfest art to share. Here are some other masterpieces that came out of Inkopolis over the weekend.
Sometimes, your body is Reggie for some ice cream.
@PyroLyrae with the close-up.
Make sure you don't lock eyes with another Inkling, or it's a battle.
Well played #TeamIceCream, but when is Portal coming to Nintendo Switch?
And of course, the infamous ice cream Sanic picture.
We can't wait to check out even more Splatoon 2 art once the game officially launches on July 21.
Check out more gaming news and coverage
Check out more video game content on Mic, including which Pokémon are actually the best and why black players can never seem to get custom characters that look like them. Learn more about how blind gamers are getting in on the fun and that Injustice 2 appears to be nerfing its female characters. See why we love Twintelle (and why we hate Twintelle) in the upcoming Arms, and don't miss our guide to dodging blue shells in the Mario Kart 8 Deluxe — you can thank us later.