Texas police officer who killed 15-year-old Jordan Edwards indicted on murder charge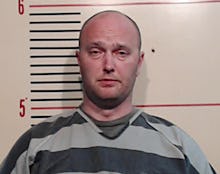 The Texas police officer who fatally shot black teenager Jordan Edwards as he left a party in April has been indicted on a murder charge by a Dallas County grand jury, the Dallas Morning News reported on Monday.
Former Balch Springs, Texas, police officer Roy Oliver, 37, fired a rifle into a car of teenagers on April 29 as they left a party. Fifteen-year-old Edwards, a freshman at nearby Mesquite High School, was in the car along with two of his brothers and two more friends. Edwards, seated in the passenger seat, was shot in the head and killed.
Police body camera footage of the shooting showed that Oliver fired into the moving car as it drove away from him, the Chicago Tribune reported on Monday.
Oliver was fired in May after department officials said that his actions had violated department policies. He was charged with murder less than a week after Edwards' death.
On Monday, a grand jury indicted him on the murder charge as well as four charges of aggravated assault with a deadly weapon by a public official, in connection with the four other teens who were in the car at the time, the Tribune reported.
A trial date has not yet been set, according to the Dallas Morning News. Oliver was indicted in June on aggravated assault with a deadly weapon by a public official for a separate, unrelated incident in which he pulled out his after he was rear-ended by another vehicle, according to the Tribune.